Article
Educational Articles
What is Mandatory Reporting?
In our context, mandatory reporting is the legal requirement for electronic service providers (ESPs) to report Child Sexual Abuse Material (CSAM) discovered on their services to either the police, or another mandated entity, such as a hotline.
Exactly what needs to be reported, how quickly, and to whom varies depending on the country and type of provider. In general however, ESPs are not required to actively seek out CSAM, but simply to report it when they are made aware of it. They might become aware of the content because of several things. Examples include performing their own voluntary actions to detect CSAM on their services, or as a result of external parties and service users flagging it to them.
Various penalties may be imposed should ESPs fail to meet their reporting obligations.

What are some of the benefits of mandatory reporting?
Organizations/corporations exercise industry responsibility
Heavy traffic in CSAM online means ESPs are in one of the best positions to report suspected CSAM offenses to law enforcement at a high volume with relative ease
ESPs are often the best situated to support law enforcement with information about their clients or users who may be victims or are subject to an investigation

What are some of the challenges of mandatory reporting?
Can result in a huge quantity of reports being made which can outstrip the capacity of law enforcement to handle the reports
Can reduce the accuracy of reports as a result of ESPs over-reporting in fear of incurring a penalty

Mandatory reporting around the world
The European Commission announced in July 2020 that they will be presenting legislation mandating Internet companies to detect, report, remove and refer CSAM.
In the US, ESPs are required to report this content to NCMEC who then process the report and share the relevant information with law enforcement.
More information regarding which countries have mandatory reporting can be found in ICMEC's Model Legislation & Global Review.

Not sure what a report is, who can make one, or what can be reported? Find out more here.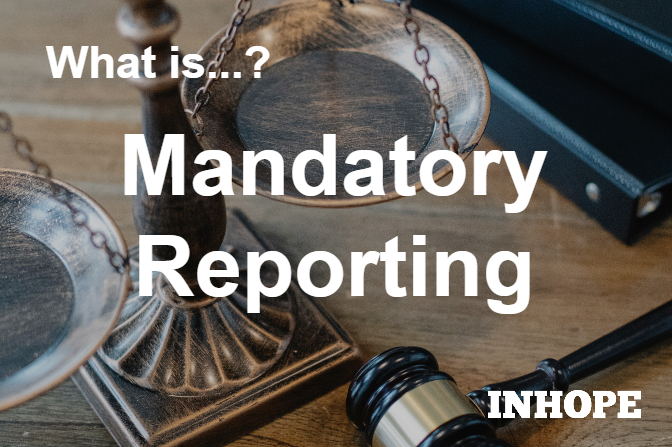 '

If you'd like to learn more about topics like this, then
click here to sign up for INHOPE Insights and Events.

'