Article
Partner Updates
Easy reporting: INHOPE and ECPAT join forces
Easy reporting
INHOPE and ECPAT International join forces against child sexual exploitation. Travel and tourism have been restricted during Covid-19, but child sexual abuse did not stop. The pandemic and the measures taken in response to it have increased the risk of children being exposed to violence, especially those who were already in vulnerable situations before the pandemic (UN Special Representative of the Secretary-General on Violence against Children, 2020). Children are exploited in prostitution, online, in the context of travel and tourism and are trafficked for sexual purposes - none of these contexts and manifestations are isolated.
As travel restrictions lift, there is reason to fear that offenders who have been targeting and grooming children over the last year in the digital environment may resume travel with the intention of hands-on exploitation. Therefore, to protect children and make reporting easier for the public, INHOPE and ECPAT join forces.

INHOPE's global network and ECPAT's platform
Both long-established reporting systems, INHOPE's global network and ECPAT's platform "dontlookaway.report" collectively process reports of child sexual exploitation in 28 countries. The two global organizations, both working for better protection of children, are partnering up to centralize reporting of the sexual exploitation of children in travel and tourism and promote reporting of online exploitation materials and suspicious situations that domestic and international travelers might come across.
"Removing child sexual abuse material requires tackling child sexual abuse. As a network INHOPE represents 42 hotlines: 21 of these accept reports of sexual exploitation of children in travel and tourism. We are thrilled to be working with ECPAT on this year's Don't Look Away campaign to promote the need for the public to report suspicious activities while travelling. Abuse is both offline and online, this collaboration enables us to tackle both." – Charlotte van Lanschot, INHOPE
"Tourists and travelers can sometimes be confronted with situations which seem worrisome for the wellbeing of a child and hint towards a possible sexual exploitation. But to report such a suspicion requires clear information on where and how to report. We want to make this step as easy and accessible as possible. That's why we combined ECPATs and INHOPEs reporting mechanisms in one place. Each report is an important help for us to better protect children around the world from all forms of exploitation." – Dr. Dorothea Czarnecki, ECPAT International

What can you do?
Report any suspicious activity you encounter abroad or at home, and encourage your family and friends to do the same. If you work in travel & tourism, implement child protection measures in your business, for example through "The Code of Conduct" for the Protection of Children from Sexual Exploitation in Travel and Tourism.
Learn more about the signs to look for and what to do if you witness suspicious activity while travelling abroad here.
Turning a blind eye does not stop the abuse. Together we can make a difference and stop this cycle of abuse.
Raise awareness, don't look away and report it!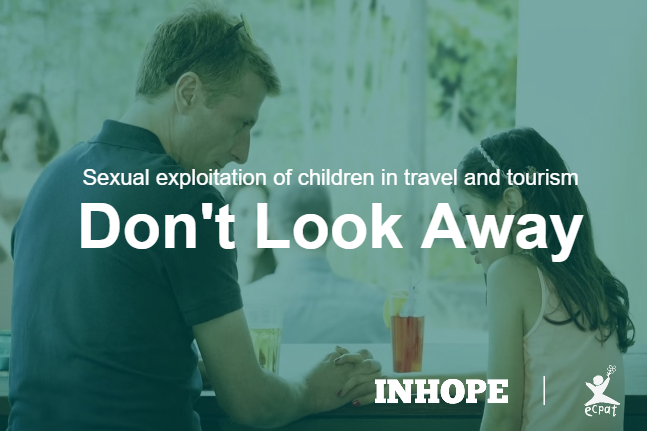 16.06.2021
Photo by INHOPE
'

Easy reporting: INHOPE and ECPAT International join forces against child sexual exploitation.

'