Article
Educational Articles
What is Child Sexual Abuse?
Any sexual activity with a minor constitutes child sexual abuse. This includes physical acts, whether through force, coercion, grooming, or implied force. A child cannot give consent to sex. This applies to sexual activity between an adult and a minor, and might also include sexual activity between a significantly older and a younger child.
Verbal acts, such as sexual harassment or trying to show a child pornography, and non-touching acts, such as voyeurism or an adult showing their own genitals to a child also constitute sexual abuse. This applies both in person and online.
Sexual abuse can have long lasting physical, psychological, and emotional consequences for the child.
If you or someone you know has been affected by sexual abuse as a child, then get help at your national helpline here.

Child Sexual Abuse and Child Sexual Abuse Material
Child Sexual Abuse Material (CSAM) refers to the recording or depiction of child sexual abuse, and constitutes a secondary form of abuse. The INHOPE network works to remove CSAM from the internet so that victims do not have to experience the trauma of knowing that people are watching and sharing material of their abuse online.
Learn more about Child Sexual Abuse Material here.

Who are the perpetrators of child sexual abuse?
The perpetrators of child sexual abuse are most commonly known to the child, either within the family, or in a position of authority outside the family but with regular access to the child. They are of every race and ethnicity, and although more commonly male, can be male or female.
There are three commonly recognised categories of abusers:
Preferential Offenders: who are motivated by sexual interests exclusively felt for children (i.e. paedophiles/hebephiles).
Commercial Offenders: who facilitate child sexual abuse for their own financial gain
Situational Offenders: who take advantage of opportunities to engage with CSAM and minors, but don't have a true or exclusive sexual preference for children
ECPAT's Global Study found that the majority of perpetrators are situational offenders.
If you're experiencing sexual feelings for children then find help here.

Child sexual abuse versus child sexual exploitation
Child sexual abuse, commonly referred to as CSA, and child sexual exploitation, commonly referred to as CSE, are sometimes used interchangeably. They are also commonly referred to together, as CSAE. Although they are similar, CSE is often associated with some notion of exchange e.g. payment to the child or family, whereas CSA need not be, and can occur only for the sexual gratification of the perpetrator.

Learn about grooming here.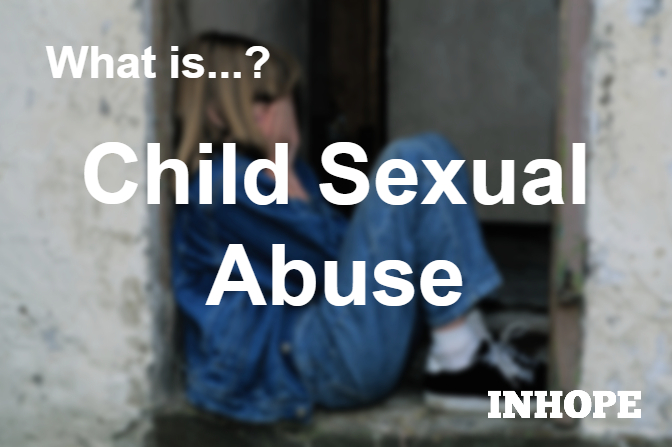 '

If you'd like to learn more about topics like this, then
click here to sign up for INHOPE Insights and Events.

'