Article
Educational Articles
Hotline & Network Updates
What is a Helpline vs a Hotline?
Helplines provide confidential advice and assistance to young people, adults and carers.
This support service makes it easy for minors to seek help and guidance on various communication channels and discuss their experiences online. But this can also include harmful content, harmful contact and conduct such as cyberbullying.

What is the difference?
When it comes to harmful content found online, a helpline's primary focus is on children so they can support them through what they've encountered, whereas hotlines focus on removing the content: in this case primarily Child Sexual Abuse Material (CSAM).

Helplines are far more easily able to interact with young people and because of that, can identify new and emerging risks concerning online safety challenges and therefore develop better safety responses.
Helplines deal with the grey areas of content such as self-generated sexual abuse images of minors. Whereas hotlines, using a team of analysts assess and classify whether the content is legal or illegal.
Hotlines primarily exist for the public, not just young people but to report anonymously online to avoid the spread of child sexual abuse material (CSAM). You can read the full definition of a hotline here.
By working together helplines and hotlines can share best practices and insights to improve processes and increase child protection.
Insafe and INHOPE
Insafe and INHOPE work together through a network of Safer Internet Centres. Insafe is comprised of a network of helplines and awareness centres. All countries within this network have their hotline as part of the Safer Internet Centre.

If you are suffering online or from sexual abuse, or any of the other issues listed above, get in touch with your local helpline. Find out your local helpline here.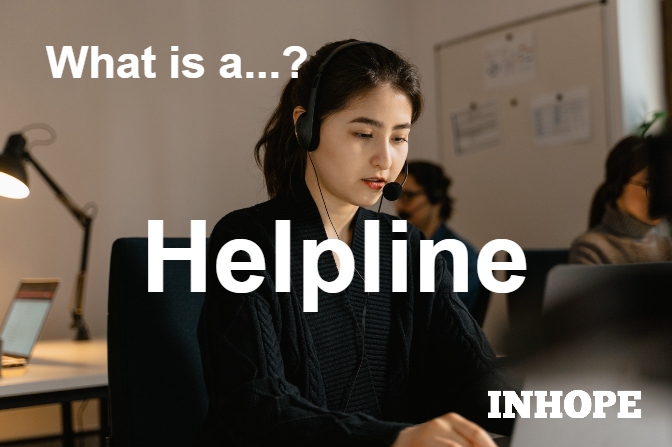 11.10.2021
- by INHOPE
Photo by INHOPE
'

If you'd like to read more articles like this, then
click here to sign up for INHOPE Insights and Events.

'