Article
Hotline & Network Updates
Welcoming iSIGURT.al Albania
iSIGURT.al is one of INHOPE's newest member hotlines and joined the network in 2021. Ran by Child Rights Centre Albania (CRCA/EPCAT Albania), iSIGURT.al's mission is to empower children, parents, teachers and citizens to use the internet and other technological communication in a positive, safe and effective way. In this interview, they discuss the importance of education and awareness in Albania to protect the rights and needs of children online. With the scale of child sexual abuse material (CSAM) in Albania being so extensive, iSIGURT.al highlights why membership is imperative for their organisation and country.

What do you consider to be the biggest benefit of the INHOPE network?
Online child safety and protection are not at the forefront of issues in Albania. As a small country of 3 million people, membership allows us to increase visibility on the topic of online child sexual abuse material (CSAM) and make this a priority for policymakers and parliament. Having our work recognised at an international level means that we can pave the way forward for law enforcement, industry and NGOs to come together and better collaborate for the protection of children. It's also important to highlight that the camaraderie amongst the INHOPE network makes the challenge of combatting CSAM less insurmountable.

What is the most challenging part of becoming an INHOPE member hotline?
"We have been working to become a member of INHOPE since 2016. Meeting the standards and requirements of becoming an INHOPE member was an ongoing challenge. Law enforcement, child protective services and other relevant actors are lagging so far behind that we decided to take the lead and build the standards ourselves. People fail to understand the reality and scale of the problem, if a child is being abused it is now occurring online." – Altin Hazizaj, Chief Executive Officer at iSIGURT.al

What is your primary goal?
Children are at risk now more than ever, and we have a key role in paving the way for other actors to come on board and help combat the fight against online CSAM in Albania. For these reasons, building awareness and information sharing are our primary goals. We seek to build a new architecture of online child protection and educate not only children but also parents.
Additionally, we aim to improve the legislation and policy when it comes to navigating the protections of children online. There is an article in the Albanian child protection law that our organisation created. However, from 2017 it hasn't changed, and it needs improving to assign new responsibilities to differing actors.

Why is there a need for a hotline in your country?
Addressing the issue of CSAM has always been a number one priority for our organisation. In recent years, we have noticed a shift in issues affecting children. What were once reports of bullying and harassment have surged to CSAM. Due to the COVID-19 pandemic and resulting school closures and lockdowns, perpetrators started looking for victims online.

Online child sexual abuse should be given police priority
We held our annual conference this year on internet safety and from the reports it was unveiled that only one case of CSAM a year is investigated by the Police. There seems to be a discrepancy between our data, reports and what the police receive. We believe this is partly due to the lack of education and information sharing because we see that Albanian children don't contact the police but prefer to speak with our organisation instead.
Being able to identify, report and remove the online harmful material are only a few of the steps required in the fight to combat CSAM. Thanks to our analysts, IT, and child protection officers we are able to get this. However, we don't have the tools and means to be the police because this is designated as someone else's job.
Fundamentally, we must all work together to raise awareness, share information, and implement prevention in regard to the protection of children online. This is why our platform focuses on the shared responsibility for protecting the rights and needs of children online by public institutions, civil society organizations, teachers, parents, the technology industry and other relevant actors.

Access iSIGURT.al Albania's website here.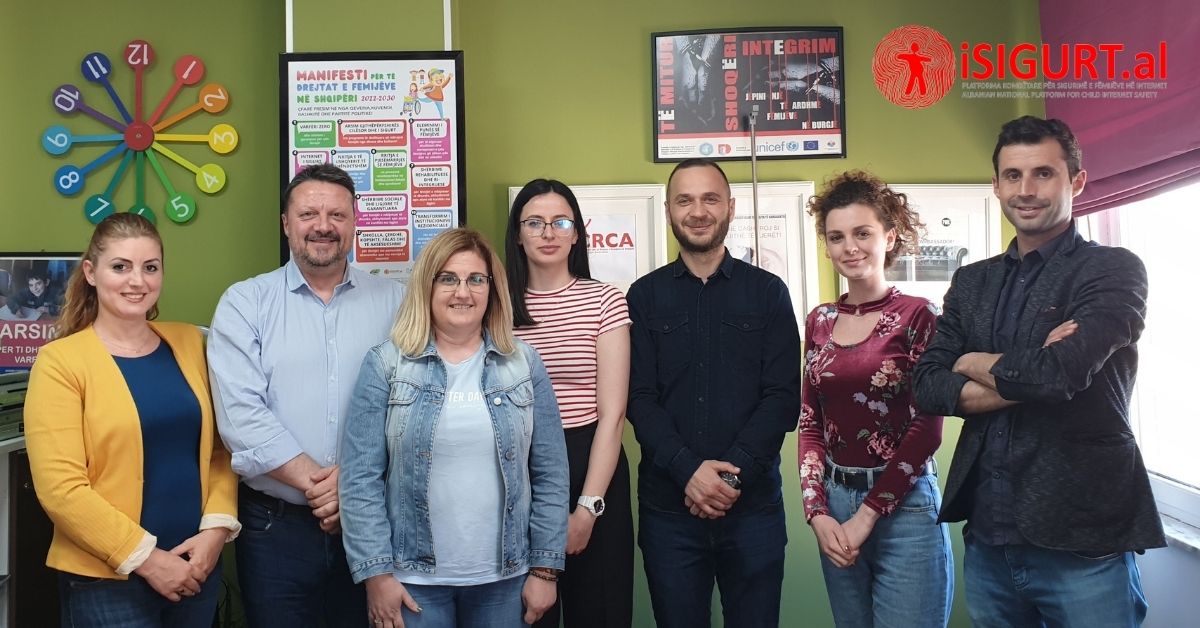 01.06.2022
- by iSIGURT.al Albania
'

Having our work recognised at an international level means that we can pave the way forward for law enforcement, industry and NGOs to come together and better collaborate for the protection of children in Albania.

'