Article
Industry News & Trends
Partner Updates
Platform Safety unites Snap and INHOPE
Snap Inc., the parent company of the Snapchat app, is collaborating with INHOPE in a new annual funding partnership. Snapchat is about being kind and respectful to other community members and with users as young as thirteen, promoting safety is essential.
Offline risks to young people and children are dealt with by law enforcement, but what about online risks? User experiences can be both positive and negative and, to foster the former, online platforms are introducing new approaches that encourage positive engagement and growth in online safety. To target and tackle issues from antisocial behaviour to online child sexual exploitation, Snap is ramping up efforts to strengthen platform safety. To strengthen further their focus on user safety and well-being, Snap appointed their first Global Head of Platform Safety.
"Snap is deeply committed to the safety and privacy of our Snapchat community. The exploitation of any member, especially young people and minors, is illegal, unacceptable and explicitly prohibited by our Community Guidelines. Preventing, detecting and eliminating abuse on our platform is a priority, and we regularly review how we can continue to strengthen our capabilities to combat child sexual abuse material (CSAM) and other types of exploitative content." – Jacqueline Beauchere, Global Head of Platform Safety at Snap Inc
By offering easy-to-use reporting tools within the app, Snap is improving the user experience and encouraging an active role in safety within the Snapchat community. In addition, Snap uses PhotoDNA technology which allows them to identify known illegal images of child sexual abuse and to report them to the U.S. National Center for Missing and Exploited Children (NCMEC). Snap's Trust and Safety teams work around the clock to investigate reported instances of abuse and to take action. Working with INHOPE brings an extra layer of protection in the mission to keep Snapchatters safe.
"By investing people, time and care into online safety, Snapchat is positioning itself to address the ongoing and new risks evolving online. We are excited to welcome Snap; they are showing a proactive effort to address both the external experience of users as well as ensuring a strong internal team is embedded into their approach." – Samantha Woolfe, Global Partnerships and Network Expansion Lead at INHOPE
Serving a younger audience introduces a heightened level of required attention for online platforms and emphasizes the importance of online protection for teens and young adults. INHOPE welcomes the support of Snap to help create approaches to fight back against bad actors and prioritise users and the communities that nurture them with the goal of thriving in a safer online environment.

About Snap:
Snap Inc. is a camera company. We believe that reinventing the camera represents our greatest opportunity to improve the way people live and communicate. We contribute to human progress by empowering people to express themselves, live in the moment, learn about the world, and have fun together.
About INHOPE:
INHOPE is the global network combatting online Child Sexual Abuse Material (CSAM). The Network consists of 50 hotlines in 46 countries that provide the public with a way to anonymously report illegal content online with a focus on CSAM. INHOPE is based in the Netherlands and our member Hotlines operate in all EU member states, Russia, South Africa, North & South America, Asia, Australia and New Zealand. In a borderless digital world, CSAM has global consequences. As CSAM increases, so do our efforts and those of our partners to combat it, aided by funding from the European Commission under the Better Internet for Kids Programme.

Interested in joining the fight? Learn more about becoming a partner.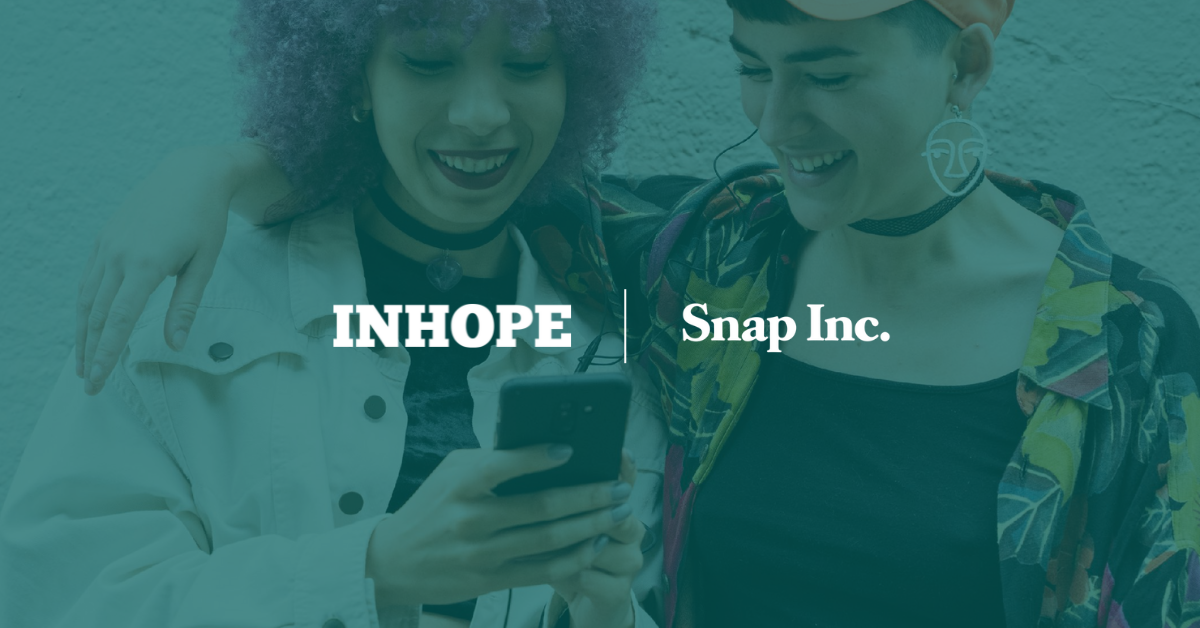 31.05.2022
Photo by Snap Inc.
'

By investing people, time and care into online safety, Snapchat is positioning itself to address the ongoing and new risks evolving online.

'