Article
Events & Campaigns
Webinar Recap: Building Resilience in Trust and Safety
The 2023 Expert Insights series continues. On the 5th of April, 69 attendees joined the INHOPE webinar to listen to Jean Claffey, a licensed professional counsellor, and Senior Wellness and Resiliency Manager at TaskUs. She shared her insights regarding current challenges with traditional wellness programmes and introduced innovative strategies to prevent harm to mental health while working in trust and safety.
Trust and Safety workers are at the forefront of fighting illegal content, such as Child Sexual Abuse Material (CSAM) online. Regularly viewing this harmful material can be a strenuous task and can even cause serious long-term harm to the brain. To counteract this negative impact, it is essential to embed comprehensive and proactive wellness programmes within the organisational culture.


The Benefits of Wellness Programmes
The right wellness programme not only benefits employee well-being but can even positively impact business outcomes, shared Jean Claffey. TaskUs found a four per cent increase in KPIs and a fifty per cent reduction in employees leaving their place of work for employees participating in wellness programming. For those new to wellness programmes, these positive outcomes might be a motivator to consider the implementation of such programming. To ensure a safe and effective programme, Jean outlined the most critical points to consider.


Creating the Right Programme
Jean explained that wellness programmes are often created by Operations or Human Resources, who may not have the expertise to create evidence-based clinical interventions that actually protect the brain from trauma. She emphasised the importance of a clinician-led wellness approach. Furthermore, it is critical to consider cultural differences, especially for global organisations implementing wellness programmes in different locations. Jean stressed that there is no one-size-fits-all approach and that investing in local providers will help to ensure a culturally appropriate approach.


Embedding Wellness in the Employee Lifecycle
A wellness programme should be designed to support employees not only during their time at the company but throughout the entire employee lifecycle from the pre-hire stage to post-employment care. An effective wellness programme needs interdepartmental collaboration, as it should become an integral part of the organisation's culture.
Pre-hire & Onboarding
"Before a candidate ever speaks to HR, they should see a clear job description, outlining the specific content they will be exposed to" - Jean Claffey, Senior Wellness and Resiliency Manager
There should never be any surprises to the employee regarding the content they will be exposed to.
A non-diagnostic pre-hire assessment helps ensure that the potential candidate has the resilience to perform the work safely. Several resilience scales are available online, such as the Connor-Davidson resiliency scale, or Resilience Scale for Adults.
Resilience practices should be introduced and practised during the onboarding process. The employee must feel mentally and emotionally prepared to handle stressful situations.


Employment
"Resilient leaders, tend to have resilient teams." - Jean Claffey, Senior Wellness and Resiliency Manager
It is critical to be proactive in preparing employees for potentially stressful situations.
Providing ongoing, evidence-based, resiliency skill-building sessions bolsters brain health. This preventative approach increases the ability to self-regulate when exposed to egregious material.
Allowing trust and safety employees to "opt out" of this work if they indicate a negative impact to their psychological health and well-being is recommended.


Supplemental Offerings
"Aside from programming specifically for trust and safety workers, supplemental programming that addresses issues applying to all employees is a best practice." - Jean Claffey, Senior Wellness and Resiliency Manager
Implementing a culture of wellness, means supporting employees in trust and safety and also offering initives that support the well-being and psychological health of all employees.
Employers should consider implementing effective risk and crisis management protocols addressing issues such as addiction problems, suicidal ideation, death of a coworker, a natural disaster etc.
It is critical for leaders and key stakeholders to recognise the behavioural and emotional signs of psychological distress and to provide appropriate interventions and referrals.


Research & Data
"Investing in research and data collection can yield valuable insights into the health of your employees and can show the impact of wellness programming on business outcomes." - Jean Claffey, Senior Wellness and Resiliency Manager
Trust and Safety is still a relatively new field, and the more contributions we have the better it is for all trust and safety workers in the industry.
Consider investing in research and data analysis to validate the benefits of your programmes and guide future interventions.


Post-employment care
"If someone indicates they are leaving the job because it caused them distress, we have an obligation to provide assistance." - Jean Claffey, Senior Wellness and Resiliency Manager
Often employee assistance programmes will offer up to 12 months of post-employment care.
If appropriate the on-site wellness team may continue providing services post-employment while assisting with a transition to further care as needed.


Jean Claffey acknowledged, that depending on your organisational size, and resources, implementing every single suggestion might not be possible. She emphasised the true value of resiliency programming resulting from embedding wellness in the everyday life of the employee lifecycle. Layering interventions and offering a variety of options results in improved outcomes for employee well-being rather than enforcing one specific approach that might not be suitable for everyone.

Trust and Safety workers are an integral part of the child protection landscape. To ensure that they can work safely, sustainably and effectively we must invest resources into implementing daily wellness routines into organisational practices. Investing in local, clinician-led wellness programmes is critical to guarantee a culturally appropriate and clinically informed approach.
Webinar Recording
This webinar was recorded and is available online. If you would like to view this webinar, visit our Webinar Playlist.
Click here to sign up for our upcoming webinars.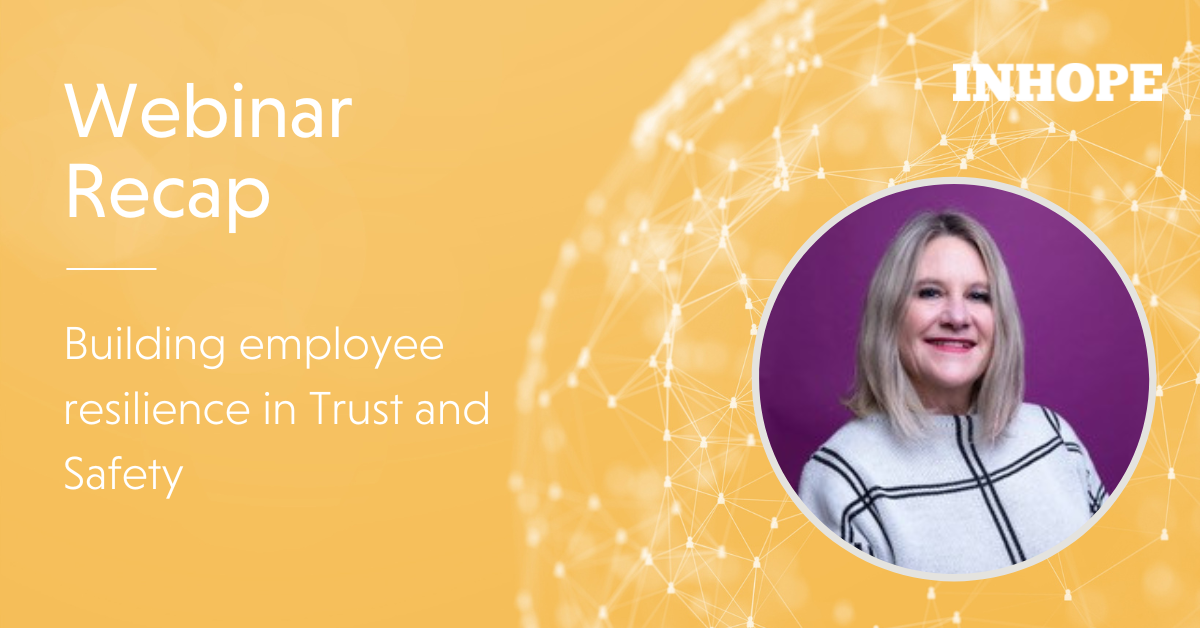 '

Investing in research, and data collection can yield valuable insights into the health of your employees and can show the impact of wellness programming on business outcomes.

'