Article
Events & Campaigns
Hotline & Network Updates
Telefono Azzurro celebrate International Missing Children's Day
On the occasion of the International Missing Children's Day, on 25th May 2021, Telefono Azzurro and the Extraordinary commissioner of the Italian Government for missing persons organized a conference on the issue of missing children in Italy, in Europe and worldwide.
Institutions, companies and members of the civil society came together to reflect on the phenomenon of missing children, a discussion made even more urgent by the COVID-19 pandemic. Indeed, in 2020, 22 "116-000 hotlines" answered a total of 42,662 calls covering 8857 cases (17% more than last year).
The Chamber of Deputies, the Minister of the Interior, the Minister for Equal Opportunities and the Family, the Holy See, the Italian State Police, the Prefectures, other relevant authorities and companies honoured the event with their presence. The international panel saw the notable presence of ICMEC, NCMEC, Missing Children Europe, academics and 116,000 hotlines.
The event represented an important occasion to discuss with national and international experts some important issues such as the AMBER Alert System, the search for missing children, the role of new technologies and the importance of transnational cooperation in protecting the rights of missing children and adolescents, in particular unaccompanied migrant children.
To emphasize the crucial role played by the 116000 hotlines in protecting missing children's rights, Telefono Azzurro launched a video campaign explaining the role and the operativity of the European hotline for missing children.
In 31 countries across Europe, organisations such as Telefono Azzurro operate the 116000 hotline providing a free and 24/7 service to children (at risk of) going missing and their families and offering immediate emotional, psychological, social, legal and administrative support.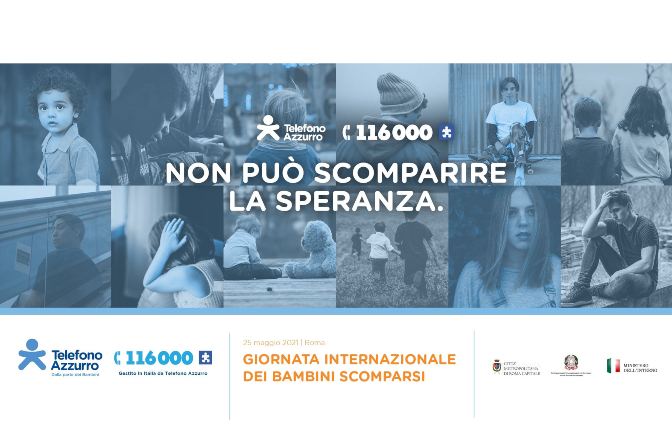 08.06.2021
- by Telefono Azzurro
'

If you'd like to read more articles like this, then
click here to sign up for INHOPE Insights and Events.

'