Article
Events & Campaigns
Hotline & Network Updates
Safer Internet Day and Annual Report Release in Taiwan
To celebrate the Safer Internet Day, ECPAT Taiwan held a press conference on 25th February and simultaneously published the annual reports of the ECPAT Taiwan "Web547 Reporting Hotline" and "Web885 Counselling Helpline".
ECPAT Taiwan invited Taiwanese legislators Wang Wan-yu, Fan Yun, and technology companies such as Google, LINE, and Microsoft to jointly give their attention to child online safety issues from different roles and perspectives in the press conference.
From practical data and trend analysis, it is observed that online grooming, sextortion, and cyberbullying are still urgent online crises for children and adolescents to be addressed.
Looking back on 2020, Web547 Reporting Hotline received 6,463 cases of illegal and harmful content reported by the public, of which 647 cases involved child sexual abuse/exploitation, accounting for 14.94% of all cases. Among these 647 cases, there were 2 cases of child sexual exploitation cracked by ECPAT Taiwan and Taiwan police authorities. Moreover, among all websites that have been caught offering child sexual abuse materials, 64% provided child sexual abuse content in Traditional Chinese characters and simplified Chinese characters; nevertheless, most of these websites' IP addresses were not in Taiwan, and there were only 13 platforms with child sexual abuse materials belonging to Taiwanese IP addresses.
Furthermore, online grooming has been seen on public forums and social media sites luring in children in recent years. Based on our observation under Web547 Reporting Hotline, online groomers have been infiltrating online social networks, under the guise of physical development or sexual exploration, targeting underage boys under 14 years old with the purpose of obtaining sexually explicit images and videos. Moreover, teenage girls are also urged to be alert to online grooming. However, unlike with boys, groomers tend to use private chat messages to communicate with underage girls, as opposed to infiltrating public social network sites and making fake profiles.
Additionally, sneak shot images have been uploaded to many porn sites of underage girls in recent times. We found that most perpetrators filmed young girls by using hidden cameras in both private and public places.
Turning now to the Web885 Counselling Hotline, which provides public consultation on issues related to online safety. The top three types of consultations are sextortion, cyberbullying, and identity theft. Taking a look at sextortion cases, they tend to come from two major sources. Firstly, about half of sextortion cases occurred between partners. For instance, when relationships break down, some partners use intimate images that were shared while in the relationship to extort their ex-partners. The second type of sextortion occurs online, where criminals trick their victims into sexual activity online, take a screenshot without the victim's knowledge, and then blackmail them. Among those cases, there were more male victims than females. Unfortunately, the public appear less concerned regarding the issue for men than for women in Taiwan, but most supporting facts are that male victims fear non-consensual dissemination of private sexual images as much as female victims.
To protect children from online grooming and to identify online groomers, ECPAT Taiwan has created a short film "What happens when you encounter online groomers?". We also worked with LINE Corporation, to jointly launch the e-book "It's easy to find me", which reminds children about online privacy. ECPAT Taiwan has also worked in collaboration with Microsoft Taiwan for many years, promoting Microsoft parental control settings and utilizing PhotoDNA technology, which authorized by Microsoft. Additionally, our recent workshop, "Keeping Children Safe Online" delivered in partnership with Google, raised awareness among teachers about the importance of child online safety whilst working to improve digital literacy among young people.
Looking into the future, ECPAT Taiwan is calling on political leaders and law enforcement to formulate special act for the effective prevention of online child grooming, and to strengthen and increase investigative capacities in criminal investigations of child sexual exploitation cases. Companies should be committed to fighting CSAM and apply technological tools to identify, detect, and proactively remove CSAM on online platforms. In addition, we should promote digital literacy skills for the online public to enable people to become informed digital citizens.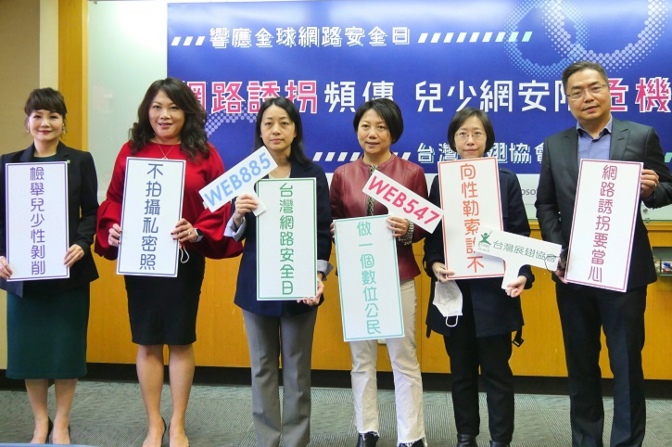 19.04.2021
- by ECPAT Taiwan
'

If you'd like to read more articles like this, then
click here to sign up for INHOPE Insights and Updates.

'