Article
Hotline & Network Updates
Reports of illegal content to Stopline tripled in 2020
A lot has changed in 2020. Social distancing, online meetings and home office have found their way into the everyday life and with them a rapid increase in Internet consumption.
It was also a demanding year for the Austrian Hotline Stopline: a total of 27,000 online reports were received - an increase of 300 percent compared to the previous year. The sensitivity of users to abusive content remains high: around every third report - a total of 7,700 - was classified as illegal by Stopline´s content analysts. In 2020 the USA, Hong Kong and the Netherlands led the statistics of the hosting countries for illegal CSAM.
In addition to the willingness of users to report, the shared responsibility between the hotline, hosting providers and authorities in Austria is a successful model for the removal of illegal content. Stopline is proud to merge these stakeholders in the hotline advisory board since more than 20 years.
On May 20th 2021 Stopline held its traditional press conference in cooperation with the Austrian ISP Association to present the statistics 2020. The media coverage after the press conference was very pleasant and appreciated to further increase awareness regarding the hotline work.
The English language version of our Annual Report 2020 as well as the latest statistics for 2021 and more is available at www.stopline.at.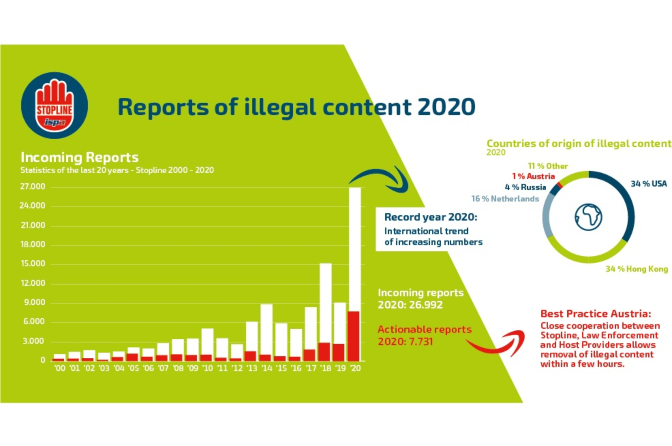 09.06.2021
- by Stopline, Austria
'

If you'd like to learn more about topics like this, then
click here to sign up for INHOPE Insights and Events.

'