Article
Events & Campaigns
Online Child Sexual Exploitation during COVID-19 - Webinar Highlights
We were thrilled to welcome Dr. Michael Salter to present the findings of his research study looking into the views and experiences of online child protection professionals, offender behaviour and child risk taking through the pandemic. With many of those in the audience having taken part in the study, the webinar was set to be a lively and engaging hour – and it didn't disappoint.

A rise in online abuse
"All indicators suggested that online abuse increased over the last 12 months."
Evidence suggested this increase was especially marked in the areas of Child Sexual Abuse Material (CSAM) downloading and sharing, online grooming and risk taking of minors. Professionals gave several possible explanations for this:
It could be the result of an ongoing trend we're seeing and irrelevant of the pandemic
It might be indicative of changes in reporter behaviour rather than offender behaviour
Or, it could be the result of a lack of robust and consistent data collection processes in this field.
When asked how offenders responded to the pandemic, and whether we were likely to see more offender activity staying online, based on his research, Michael answered:
"I am concerned that we have a more technologically proficient offender community than we had pre-covid."
We are likely to see variable reactions from offenders, but Michael noted that in offender forums on the dark web a real frustration was seen regarding the lack of physical access to children during the pandemic. He expected that online abusers with a preference for hands-on abuse would likely return to this style of abuse.
"The tenacity of the offending community and their willingness to adapt and persevere through COVID-19 was really concerning."

Increase in abuse, decrease in prevention
Concerningly, the evidence suggested the increase in online abuse had been met by no change in the level of victim identification work and support for victims, and even a decrease in the delivery of prevention and education programs.
"This should give us a moment to stop and reflect and look at the story this data is telling us."
As possible explanation for this decrease, prevention activities largely occurred in person and in school settings. Many organisations found creative alternatives but a decline seemed to persist.
"How can we crisis-proof prevention and education work in online safety?"
This was one of the questions that arose from the research, and Michael believed we should be concerned that during this period of exacerbated risk, there's indication of a decline in prevention and education work.

The role of industry and policy makers
Asked by a member of the audience the pragmatic steps industry can take, Michael's view was that when the private sector take a product to market that's going to be used by children, they need to make sure that product is safe for children - and that's not currently the case for all industry.
"These harms are predictable, they are currently inevitable, and in my view they are unacceptable. We will not be able to win this battle until online services are safe for kids"
Turning to the role of voluntary guidelines, Michael pointed out that there are companies, like Facebook, who taking proactive steps to detect CSAM, and make their platform safe for children, and as a result have numbers which make their platforms look terrible for child safety. Conversely, platforms which take no proactive measures never find the problems and so look great on the numbers.
"These are the kinds of perverse outcomes that result from the voluntary settings that we have at the moment – government needs to create certainty for industry and articulate the public expectation that the platforms will be safe."

To read the full report, including further data and discussion, as well as lessons learnt click here and make sure not to miss out on future webinars by signing up for INHOPE Insights and Updates here.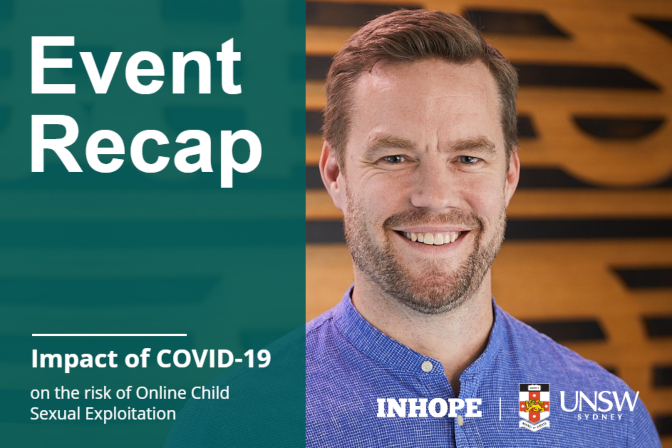 '

Make sure not to miss out on future webinars by signing up for INHOPE Insights and Updates here.

'