Article
Events & Campaigns
Hotline & Network Updates
New Guide on Sexting - awareness raising on #EndChildSexAbuseDay
On European Day Against the Sexual Exploitation and Abuse of Children (18th November) the two INHOPE hotlines of FSM and eco within the German Safer Internet Centre published an online guide about sexting. The joint hotline website www.internet-beschwerdestelle.de now offers multi-faceted information on the phenomenon itself, explanations on its relevance for young people and specific guidance on how to act responsibly when sending ("Think before you send!") or receiving ("Be aware of your responsibility!") sexting images or videos.
Another key message addresses parents and educators especially, asking them to be informed and educate their children with the provided support. Through such practical guides and FAQs, we aim to foster an educated use of digital media and raise awareness of possible risks, both crucial for an effective approach to fight all forms of sexual exploitation of children and young people.
Both partners promoted the new guide on their social media channels on Facebook and Twitter throughout the awareness day in order to reach as big an audience as possible with the informative and helpful materials. The communication activities have reached more than 16.800 impressions on social media since then.
Several institutions work together within the German Safer Internet Centre: The hotlines of FSM, eco and jugendschutz.net, where illegal content can be reported to, the awareness centre klicksafe and the helpline Nummer gegen Kummer. We continuously want to encourage the public to take advantage of our diverse offers and contribute to a better internet for children and young people.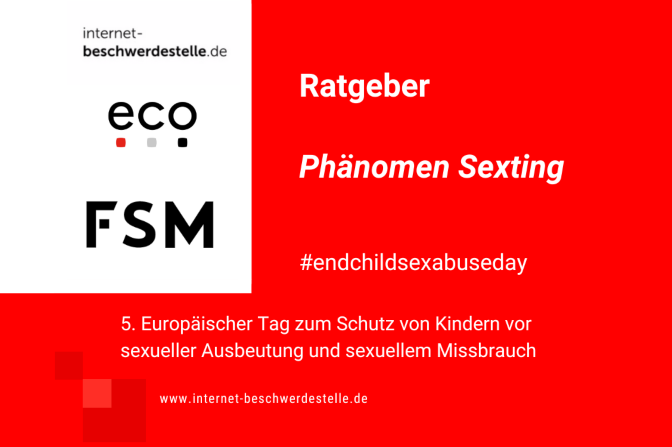 13.12.2019
- by FSM
Photo by FSM, eco., INHOPE
'

The communication activities have reached more than 16.800 impressions on social media since then.

'