Article
Meet the INHOPE Board, Toby Dagg
Get to know the people behind INHOPE with our board member spotlight.
Toby Dagg
Board Member

Why do you think INHOPE is important?
The extraordinary growth of child sexual abuse material (CSAM) as a global threat requires a global response. Our colleagues in law enforcement are performing critical work identifying and rescuing victims and disrupting offender networks. However, the persistence of material depicting the abuse and exploitation of children online is a source of secondary trauma for many. INHOPE plays an important role in reducing and limiting this source of trauma by building and maintaining a strong and effective network of passionate professionals around the world.

What do you see as the biggest challenge for INHOPE in the next five years?
There are both strategic, technical and demographic challenges that lie ahead. How will decentralisation affect INHOPE's model of notice and takedown? CSAM is distributed throughout a dispersed network and not subject to control by a single content service or hosting service. What strategies do we need to implement to anticipate and respond to the fact that just under half the world is yet to come online? And what impact will COVID have over the long term to shape our threat environment?

Why did you decide to become a part of the INHOPE board?
INHOPE is an organisation that means a great deal to me, both personally and professionally. I have cherished being part of a global effort to combat online child sexual abuse material over the last eight years of my career. Joining the INHOPE board was my way of giving more to this critical effort, and to help strengthen our network for years to come.

What is your vision for the future?
I envision an INHOPE that is self-sustaining, steadily growing, responsive to changes in our environment and has strong governance in place.

If you could change one thing about the internet, what would it be?
This is not a wish about the Internet per se, but about governance. There needs to be a far greater responsibility taken by all those who are responsible for elements of internet governance. From hosting services, registrars, standards bodies, and network operators for ensuring their services are not abused for CSAM. Making the clear-web a far less hospitable place for those who would harm children.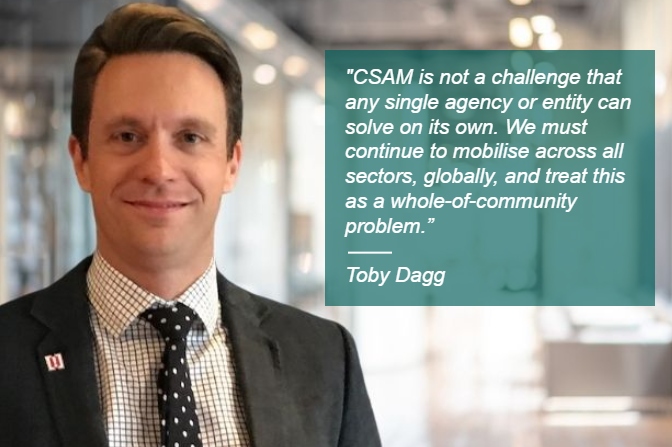 26.10.2021
Photo by INHOPE