Article
Hotline & Network Updates
Events & Campaigns
Greece and Italy align to tackle the similar challenges they face in the sector of child care and child protection
The cooperation between Greece and Italy on the protection of children through actions and initiatives was the leading theme of the event held on October 22th, 2019 at the Italian Cultural Institute in Athens, promoted by The Smile of the Child and Telefono Azzurro.
Greece and Italy have been facing with very similar issues and challenges in the sector of child care and child protection, not least related to the migration situation in the Mediterranean basin. The two organizations have a common core activity as operators of the European Hotline for Missing Children 116000. They share a firm commitment regarding the urgent issues of bullying, cyber-bullying, sexual abuse of children, and child participation.
"We are envisioning and developing a common strategy for all the complex issues of child protection. Problems are common in many countries and that is why we need to build an alliance in order to find common solutions. In this context, the event has given us a good opportunity to discuss with our partner 'The Smile of the Child' on all these ways of working more closely together for the benefit of children" noted the President of Telefono Azzurro, Professor Ernesto Caffo.
The discussion highlighted the urgent need for strong cooperation with the goal to ensure immediate mobilization within the first 24 hours in the cases of children at immediate risk. Emphasis was put on the vulnerability of children in migration, an issue of particular concern for countries and societies like Greece and Italy, first points of entry into the EU.
In support of this joint action, the two organizations agreed to launch a strong bilateral cooperation to promote their common positions, ideas, and practices at the international fora of the EU, the United Nations and the Council of Europe.
The Smile of the Child and Telefono Azzurro are convinced that this enhanced bilateral cooperation will ensure a more immediate and effective international communication of the needs in both Greece and Italy on critical issues such as child participation in the decision-making process, online safety, the fate of children in the context of migration, and sexual abuse of children, which remains one of the most fundamental concerns and causes for intervention of both organizations, and requires a response of preventive measures and holistic support of child victims of abuse.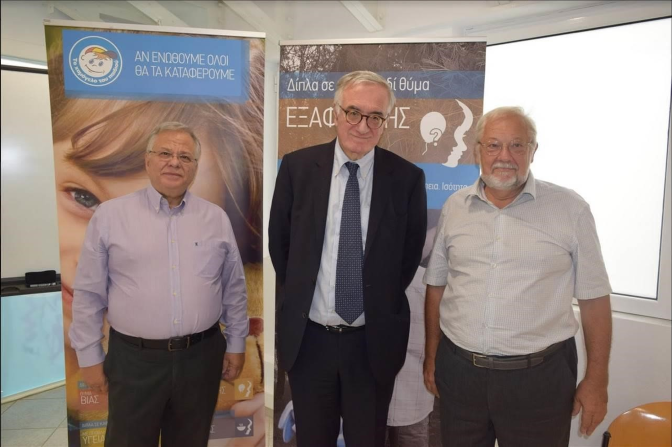 10.12.2019
- by Telefono Azzurro
Photo by Telefono Azzurro, INHOPE
'

From the left: Konstantinos Yannopoulos President of "The Smile of the Child", Ernesto Caffo, President of "Telefono Azzurro" and Ambassador Marc Van den Reeck, Head of International Cooperation of "The Smile of the Child".

'