Article
Industry News & Trends
NetClean Report 2019
Live-streaming
Live-streamed child sexual abuse crime is on the increase. 56 percent of the surveyed police officers stated that this type of crime is on the increase.
The most common scenario is that children in the US or Europe live-stream content of themselves, either voluntarily or as a result of grooming or extortion.
The surveyed police officers mention in total sixty-four different apps and platforms that are used for livestreamed child sexual abuse. Most common is Skype, followed by Snapchat, Facebook, Kik and Omegle.
When we talk of distant live-streaming, ordered webcam shows where a grown-up facilitates the abuse, we usually talk about the Philippines. The report shows that this type of abuse also takes place in Western and Eastern Europe, Russia and the US.
Technological development present both challenges and opportunities
The technologies that present the biggest challenges to law enforcement investigations is encryption (49 %), followed by TOR/darknet (18.7 %) and cloud storage (17.8 %).
In contrast, more than half of the surveyed police officers also state that developments in technology aid the discovery and investigation of child sexual abuse crimes. AI, primarily, is highlighted as technology
that aids investigations today. Development of AI is also seen as having great potential for aiding investigations in the future.
Businesses' response to the risk of child sexual abuse material in their IT environments
Nine in ten businesses reported having a policy in place that states that it is prohibited to handle child sexual abuse in the company's IT environment. Eight in ten reported having an action plan to deal with the discovery of child sexual abuse material in place.
Eight in ten businesses also reported having technology in place to comply with their policy. Six in ten use filter solutions, often as part of an employee monitoring tool. One in ten businesses reported using a detection solution. One in ten reported having found child sexual abuse material in the organisation's IT environment.
The full report can also be downloaded from or read on the NetClean website - https://www.netclean.com/netclean-report-2019/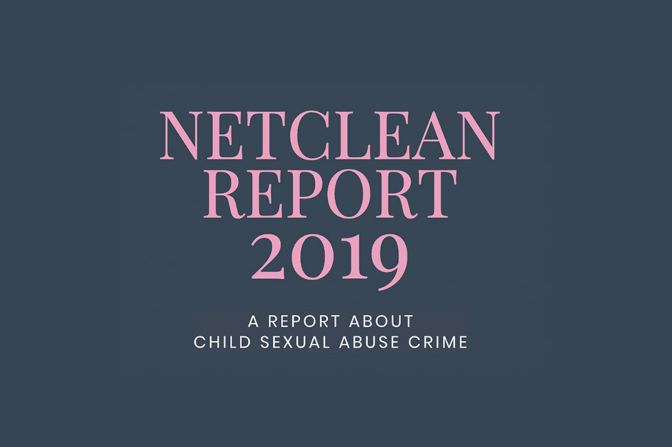 06.12.2019
- by NetClean
Photo by NetClean, INHOPE
'

A key takeaway from this is that businesses show a will to act, but that their policies need to be backed up by effective technologies that are designed to detect child sexual abuse material. Otherwise the material risk going undetected.

'