Article
Events & Campaigns
Announcing the INHOPE Summit 2024
We are thrilled to announce that the sixth INHOPE Summit, hosted by Meta, will take place on September 19-20. The theme of the hybrid event is "Partnering Product with Policy." Learn more about the event here.

Partnering Product with Policy
User empowerment is developed at the intersection of technology, human rights, and proactive platform safety enforcement. This year we will focus on how to unite online platform product and online platform safety policies in order to prioritise user safety and user rights.
As online platforms scale through the engagement and the acquisition of new users, they need to consider user-centric safety. As well as increasing user retention, safety is directly linked to the user's experience, so why not use it as part of your core offering as a consumer driven platform?
The aim of the INHOPE Summit 2023 is to promote positive online experiences for all users by enabling and ensuring safety by design, exploring the cross-collaboration of product and policy teams, at the same time as highlighting the fundamental requirements to create safe online experience and generate implementation guidelines for online platforms.
Join us to discuss how you can enable your organisation to take ownership of the fact that user-safety is an essential part of the user's experience.
What is the inhope Summit (link this article)
What we offer you
Attend this year's Summit to find out how you can build internal relationships and establish cross-departmental buy-in. Safety is part of a sustainable growth plan as it focusses on the user's experience, building communities and fostering a positive platform reputation.
We will provide you with a in-depth discussion into the value of strengthening the collaborative efforts between product and policy to establish the status of your online safety and how foundational changes can minimise the need for constant changes. In order to protect the rights of young people online and tackle child sexual abuse and exploitation on a global scale, we are seeking all relevant stakeholders to join these discussions.
Find out more about the event and FAQs, or get access to the latest agenda here.
Day 1 (hybrid), September 19, 09:00 EST - 16:30 EST (15:00 CEST - 22:30 CEST)
Hear from industry leaders including the Match Group, Yubo, NCMEC, Twitch, Microsoft, Google, SNAP inc, Zepeto, Grayshift, Crisp, TikTok and the Tech Coalition.
Day 2 (in-person only), September 20, 10:00 EST - 16:00 EST
Held at Meta's office in the Greater Boston area (100 Binney St, Cambridge, MA 02142). This is an opportunity for discussion with breakout rooms, a panel discussion and industry presentations.
Should I attend both days?
Online, September 19, we welcome Trust and Safety professionals, content moderators, leaders in product development and policy, child protection NGOs, technology companies, law enforcement, hotlines, policymakers, government and other stakeholders working in the field of online child protection.
In-person only, September 19-20, is for industry partners and platform operators. Day 2 is an opportunity for product and policy professionals together to bridge the connection between the two. Numbers are limited and all applicants are subject to approval.
When should I sign-up?
In-person registrations are limited and must be approved prior to September 8th (this is a firm cut-off for security purposes) and online registrations must be approved prior to September 15th (unapproved registrants will not be able to join). In-person registrations are limited to one per organisation and all registrants are subject to approval.
Should you and your organisation be part of the discussion? Learn more and register here.

The INHOPE Summit 2023 is being hosted by our annual funding partner Meta.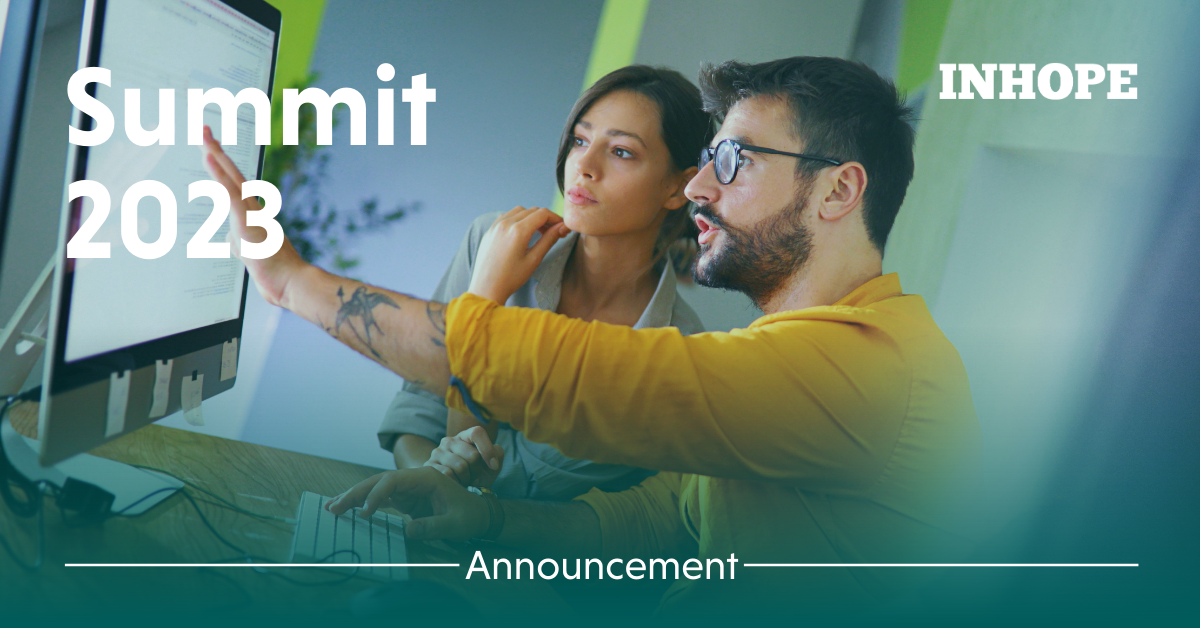 '

Should you and your organisation be part of the discussion? Sign up to the INHOPE Summit 2023 here.

Registration End Date:
In-person September 8
Online September 15

In-person registrations are limited to one per organisation and all registrants are subject to approval.

'