Article
Industry News & Trends
Educational Articles
Achieve balance working from home during COVID-19
INHOPE's hotlines, like many organisations, have had to adapt to the situation around COVID-19. This includes temporary work from home policies on non-CSAM activities. To many this is a new challenge, to others it is familiar territory and the effect varies for each and every one of us.
If you are new to working from home or just curious, we have put together some quick, fun and easy tips.
Try out these tricks and techniques, see if they help you to develop a healthy work/life balance or act as a good refresher to your current approach.
Tips
Dress for the day as if you are going into the office – it reflects that you are mentally prepared for work, plus if a Skype call is needed at short notice you are always ready.
Try to escape distracting noise from family members by listening to a playlist or using noise-canceling headphones.
If possible look into flexible work hours, especially if you have children at home. By beginning your day earlier than usual or working later in the evening, you may be able to avoid clashing with family responsibilities.
Staying productive means making adjustments. Structure your day with both work and family in consideration.
Before your workday starts, LEAVE YOUR HOME. Go for a short walk or get exercise etc. and then focus on work with a clear head.
Designate a space in your home for work, so when you physically leave, it is easier to mentally leave and be present at home.
If you have to work in a common area, put away work items such as the computer and notes at the end of the day.
Set an alarm to go off every 90 minutes then simply take a break and get some fresh air.
Set an alarm for your finishing/end of day time – and when it goes off – STOP WORKING!
Make a conscious effort to talk to other people during the day via phone or Skype. Do not become isolated.
Ensure that you make use of all psychological supports provided by your organisation.
Eat in a different place than your workplace where possible.
Try to get natural daylight and fresh air (open the curtains and open the window)
When your workday is over LEAVE YOUR HOME. That can be just a short walk, exercise or whatever it takes for you to physically change your environment so your mind can refocus.
Every day - get physical exercise to break up potentially negative thought patterns and allow your brain to reset.
Don't procrastinate reading about COVID-19!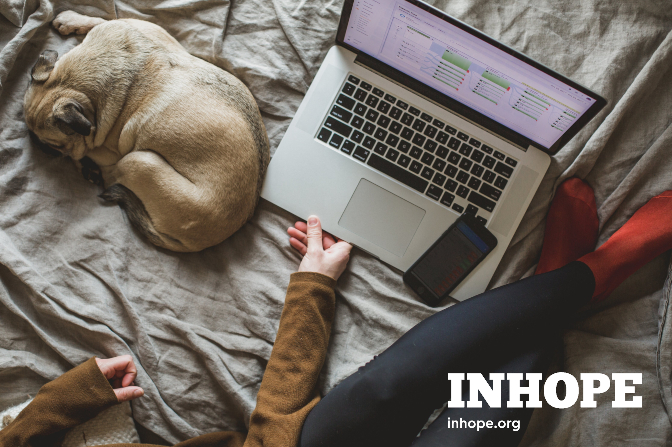 27.03.2020
- by INHOPE
Photo by INHOPE
'

Tip 15: Don't procrastinate reading about COVID-19!

'