Article
Educational Articles
What is the difference between a hotline and a portal?
On our homepage you will find a list of every country in which you can report suspected Child Sexual Abuse Material (CSAM) online. However, as the map indicates, in some countries you report this content to a hotline, and in others a portal.
What is a hotline?
Hotlines enable the public to anonymously report online material they suspect may be illegal. They do this by visiting their national hotline website, and submitting the URL where the material was found. A hotline analyst will then investigate the report according to the national jurisdiction, and if confirmed illegal, they act to have the content removed from the internet as rapidly as possible.
Hotlines are operated by organisations in the respective country, so reports which are made to hotlines are assessed by analysts in that country too.

What is a portal?
Portals provide a way for the public to anonymously report online material they suspect may be illegal when no hotline exists. Reports are assessed and removed by analysts who work for the organisation operating the portal, and so not the in the country in which the report is made.
All of the portals currently listed on our website are operated by the UK-based INHOPE Member Internet Watch Foundation (IWF). The content which is reported via these portals is assessed and removed by analysts at the IWF.

What's the difference?
Portals are a great way to enable a country to report illegal content when no hotline exists. However, because hotlines are operated from the same country that people report the content, they have greater expertise regarding the local and cultural context. This is valuable for several reasons:
Hotlines and portals are only one part of the eco-system required to get illegal content removed, rescue victims, and catch perpetrators. Two other important organisations are Hosting Providers (HPs), who remove the content, and Law Enforcement Agencies (LEAs), who rescue victims and catch perpetrators. By operating at a national level, hotlines can develop stable working relationships with local HPs and LEAs enabling them to work together effectively.

Understanding of the local and cultural context of a country enable hotlines to be effective at raising awareness about the problem of CSAM, and educating the public on the need to report it.
Engaging in awareness raising activities is encouraged for all INHOPE Member Hotlines. They are also required to consult with the major stakeholders in their country of operation including: Government, Law Enforcement, Internet Industry, Child Welfare organisations, etc.
To see the full list of criteria which a hotline must meet to join the INHOPE Network, see the INHOPE Code of Practice. Or, find out more about setting up a hotline here.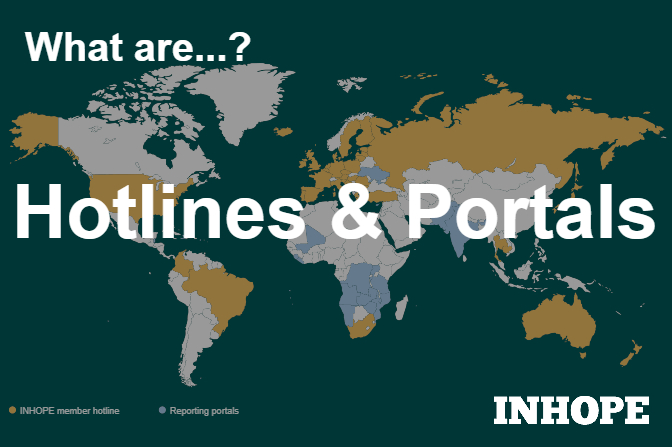 '

If you'd like to learn more about topics like this, then
click here to sign up for INHOPE Insights and Events.

'