Article
Educational Articles
What is Illegal Content Online?
There are a wide range of illegal and harmful activities which occur on the Internet. Although what is considered illegal will vary in each country, some example of things which might be included are:
Child Sexual Abuse Material (CSAM)
Hate Speech
Commercial scams
Breaches of intellectual property rights
Child grooming activities
Harassment or cyberbullying
Visit your national hotline's website to find out more about what content and activities are illegal in your country.

Where might I come across illegal content online?
You can come across illegal content or activity in a variety on online spaces. This includes content which is hosted openly, such as on a website, and content or activity which is sent directly between people, such as via email.
Some examples include:
Websites
Social media platforms
Forums and blogs
File sharing services such as Peer-to-Peer networks
The Darknet
Email
Messaging services
Gaming platforms
Searching for illegal content online is illegal. You should never actively look for illegal content online, even if your goal is to get it removed.

What should I do if I come across illegal content online?
Remember that you haven't done anything wrong, and follow the steps below.
Report it. You can either do this directly on the site, if they have a reporting function, or to your national hotline. To find out what kind of illegal activity can be reported to your national hotline, click here.
Get support. Coming across illegal and harmful content online can be distressing. Talk about what's happened with someone your trust, contact your national helpline.
Close the page. Once you have reported the URL to the site administrator or your hotline, close the page.

The learn more about what a hotline is, click here.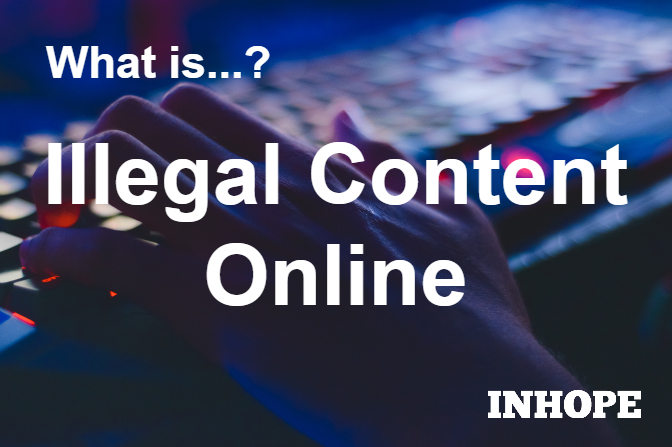 '

If you'd like to learn more about topics like this, then
click here to sign up for INHOPE Insights and Events.

'