Article
Educational Articles
What is Hate Speech?
Hate speech includes statements intended to demean and brutalise another and the use of cruel and derogatory language on the basis of real or alleged membership in a social group. This includes racism and xenophobia.
The growing number of websites promoting hate speech on the Internet is an area of concern for many countries. The uncensored nature of the Internet provides the opportunity for those with racist and xenophobic views to promote these to a global audience.

If I find something offensive, does that make it hate speech?
However offensive some of the material might be, it does not necessarily mean it is illegal under criminal law. Differences in national legislation exist, but typically the common ground across countries is where websites encourage individuals to act on the views presented. Incitement to action as a result of hate speech may then be classified as illegal.
Social media platforms often have their own rules regarding what they consider hate speech and/or unacceptable under their Community Standards.

What should I do if I come across hate speech?
Social media platforms should have information in their Community Standards about what to do when you come across hate speech on their platforms. Alternatively, or if you come across hate speech somewhere else, many INHOPE Hotlines investigate reports of hate speech of various types including racism and xenophobia. Reports they receive will be investigated in depth and judged against the legislation of the country where the content is hosted.
Find out if your national hotline handles reports of hate speech here. If your hotline doesn't handle reports of hate speech, or to find out more on this topic, visit the International Network Against Cyberhate.

To learn about online grooming, click here.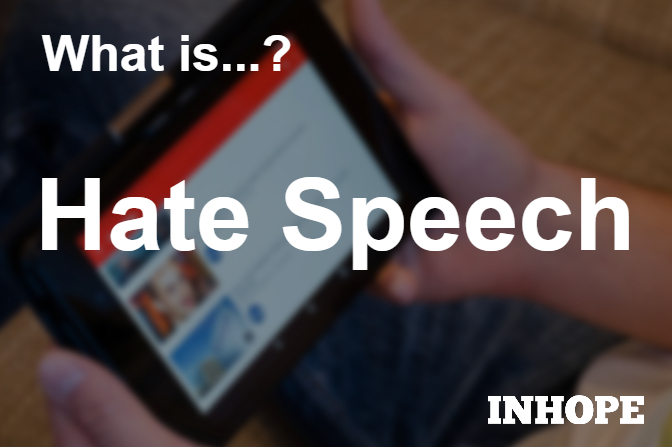 '

If you'd like to learn more about topics like this, then
click here to sign up for INHOPE Insights and Events.

'