Article
Educational Articles
Projects
What is ESCAPE today?
The ESCAPE project, funded by End Violence Against Children (EVAC) represents INHOPEs vision to implement an infrastructure that enables every member of the public around the globe to report child sexual abuse material (CSAM) encountered online. To achieve this vision, INHOPE has set the goal of establishing new hotlines in at least four countries by the end of 2022.


Network Expansion
Since the start of the ESCAPE Project, INHOPE has set up hotlines in Serbia, in Albania and is currently in the process of setting up a new reporting hotline in Moldova. INHOPE supports countries and organisations throughout the whole process of establishing a new reporting hotline, including building relationships between local stakeholders such as law enforcement and local hosting providers. New hotline analysts are given specialist training that allows them to process reports of CSAM and all hotline staff are supported in raising public awareness of the issue of CSAM and the role of a national hotline.
To make establishing a hotline more accessible, INHOPE has launched a series of Quarterly Seminars, during which our network expansion team outlines the first steps of setting up a national hotline. Different from a one-on-one meeting, the seminars taking place every three months at 10:30 AM CET, offer all attending stakeholders an open space for discussion - not only with the INHOPE network expansion team but with each other. By facilitating open conversations the seminars provide the opportunity for attendees to ask questions, raise concerns, make suggestions and establish new connections with relevant partners. Considering the increasing number of stakeholders in South and Central America, starting in 2023 the Quarterly Seminars will also be offered in Spanish at 4:00 PM CET.


Technological Solutions
Establishing the ESCAPE infrastructure requires certain technological developments, that have been implemented over the last couple of months:
ICCAM API
ICCAM is the secure portal used by the INHOPE Network to collect, exchange and classify reports of Child Sexual Abuse Material (CSAM). It enables data to be shared between different hotlines and with INTERPOL. The API implements full interoperability with Report Box, the ICSE database, AviaTor and hotline-specific reporting systems.

Cloudflare Integration
Cloudflare is a content delivery network platform that offers web hosting with a high degree of availability and privacy. For hotline analysts, this means that they are unable to see the hosting company and country when searching for a domain online. This became an obstacle in the rapid removal of CSAM online. To address this, INHOPE implemented structural changes in form of a Cloudflare integration, that allows analysts to directly look up any Cloudflare serviced domain and identify the hosting provider and country. This instant identification saves analysts time and allows them to quickly notify the corresponding jurisdiction.

Report Box
Report Box is a software application which enables hotlines to receive, store and process reports of suspected CSAM from the public in a safe and secure environment. It is a plug-and-play solution for organisations that lack the means or knowledge to develop a reporting structure of their own to receive CSAM reports. Several hotlines have moved on to develop their own reporting structure after starting out with Report Box.


Does your country have a hotline? If the answer is no we can help you change that! Join our next Quarterly Seminar to learn all about the first steps of setting up a national reporting hotline.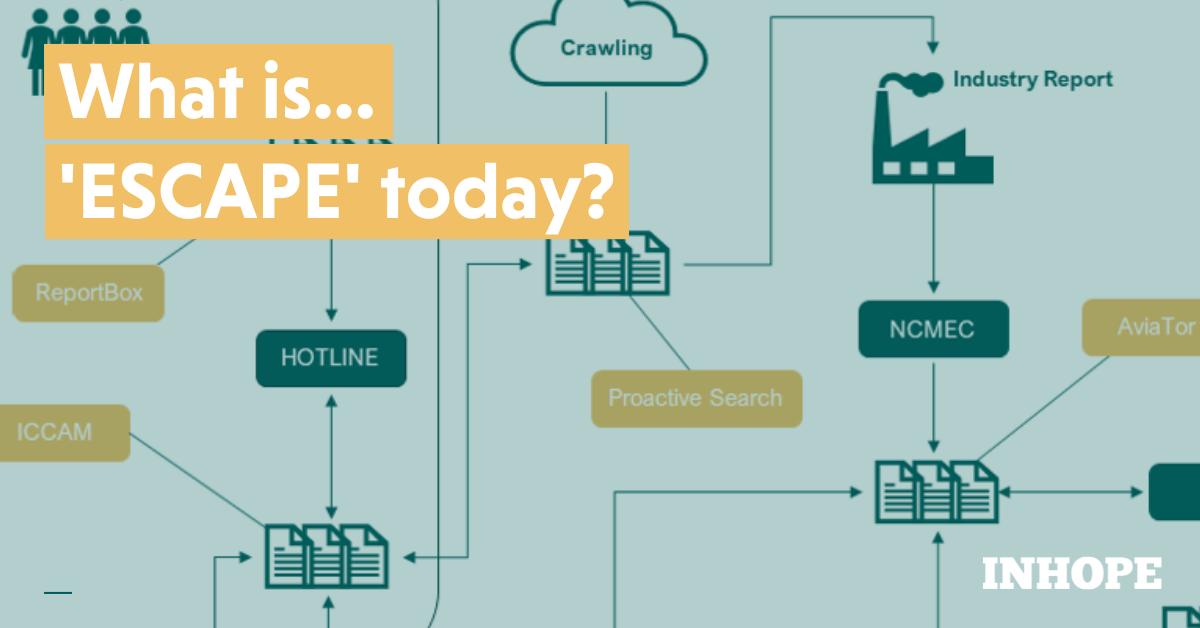 '

Does your country have a hotline? If the answer is no we can help you change that! Join our next Quarterly Seminar to learn all about the first steps of setting up a national reporting hotline.

'