Article
Educational Articles
Partner Updates
What is an INHOPE Funding Partner?
INHOPE's Annual Funding Partners are vital to our network in fighting online Child Sexual Abuse Material (CSAM). Their support has enabled the strategic expansion work currently undertaken by INHOPE staff and contributed to the training and technical support of more than 200 analysts in 43 countries around the world in 2020.

The value of collaborations for us
The distribution and scale of online CSAM continues to grow on a global scale. In response to this ongoing challenge, your support can help us pursue four main avenues:
Technology development, including ongoing work on ICCAM, our secure platform used to collect, exchange and classify reports of CSAM
Network expansion, focussing in the major internet usage expansion zones: Asia Pacific, South Asia, Latin America, the Middle East and Africa
Capacity building, enabling analysts to act as the frontline against online CSAM effectively and safely
Political and legislative engagement, working to shape the future of EU and national policy in a way that keeps children safe online

How our work benefits you
Mobilise support for one of the most pressing social issues of the digital age, addressing online child sexual abuse, reducing re-victimisation, enabling digital citizens to surf safely and taking responsibility for protecting children on the internet.
Showcase the active steps taken by your company to protect children and consumers.
Demonstrate the effectiveness of the self-regulatory model in tackling online CSAM.
Support the lobbying of robust and consistent standards, quality and legislation across borders.
Achieve your company's Corporate Social Responsibility (CSR) objectives.
Motivate employees.

What do our current partners say?
'INHOPE is a vital partner in our collective effort to combat child sexual exploitation and abuse online. We are delighted to support INHOPE's extraordinary work across the globe, making public reporting mechanisms available to help stop the spread of illegal imagery online. A whole of-society approach is critical to address this problem and the INHOPE network of hotlines is a fundamental part of that effort.' - Jacqueline Beauchere, Global Digital Safety Advocate, Microsoft and Member, INHOPE International Advisory Board.
Hear from more of our partners here.

How can you become an INHOPE Partner?
Find out more on our Partner page, or reach out directly to Samantha.woolfe@inhope.org.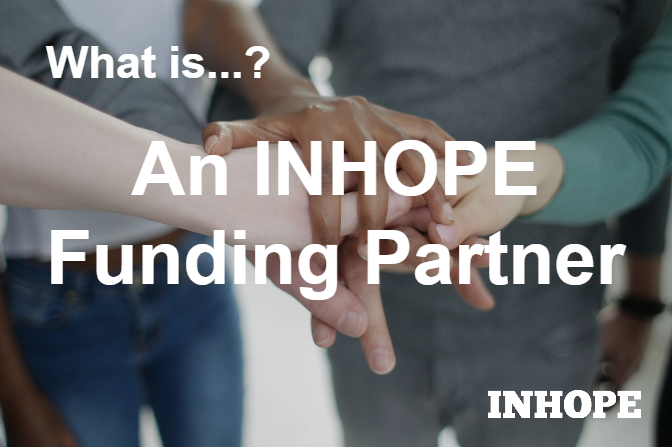 '

If you'd like to learn more about topics like this, then
click here to sign up for INHOPE Insights and Events.

'