Article
Events & Campaigns
Webinar: Cryptocurrency and the Trade of Online Child Sexual Abuse Material
Schedule & Registration
Wednesday 2nd March at 4PM CET (10AM ET)
Click here to register. This session will NOT be recorded.

About
The panel will examine how the private and public sectors work together to fight commercial child sexual exploitation that relies on cryptocurrencies. Participants will learn about current and future trends as two case studies will be addressed: Welcome to Video and DarkScandals.
This webinar is for law enforcement (especially those specializing in crimes against children and financial crimes), financial regulators and institutions, hotline managers and technology companies in the cryptocurrency space.

Panel Biographies
Our moderator for the day will be Ari Redbord, the Head of Legal and Government Affairs at TRM Labs. Participating in this panel discussion are:
Elizabeth (Beth) Bisbee
is currently the US Head of Investigations at Chainalysis, Inc where she leads a team of best-in-class cryptocurrency investigators. Prior to that, she was an Intelligence Research Specialist at the Drug Enforcement Administration (DEA). As DEA's leaded SME, Beth trained hundreds of agents and analysts at DEA and other law enforcement agencies, assisted in more than 400 investigations involving cryptocurrencies, assisted in the seizure of cryptocurrency, and served as a testifying witness. She has been researching cryptocurrencies and their illicit use, and actively working cases in that area, since 2014.

Jarod Koopman
is currently the Acting Executive Director over the newly formed Cyber and Forensic Services section and continuing to oversee all aspects of Cyber Crime for IRS-CI. This section was created as part of the CI reorganization and design efforts to align priorities and services. In the past six years as the Director, CI has continued to expand their capabilities and solidified its role as the prominent force in cryptocurrency tracing and dark web activities. He will be leading the standup of this new section and the establishment of the Advanced Collaboration and Data Center (ACDC), scheduled for opening in 2022.

Samantha Rodriguez
is a Senior Global Intelligence Investigator at Coinbase. Coinbase is a crypto exchange founded in 2012 that operates all over the world. Prior to Coinbase Samantha has been in the financial crimes space sector 2013, having worked as a Fraud Investigator at Funding Circle and Lending Club, two peer to peer lenders. Samantha specializes in cryptocurrency investigations involving all crimes, but has a focus on CSAM. She has worked on 10 complex CSAM investigations this year alone, including an investigation involving the kidnapping and sex trafficking of a minor, which was successfully resolved and led to her safe recovery.

This webinar is hosted on behalf of the European Commission with the support of our partner the International Centre for Missing & Exploited Children (ICMEC). Interested in attending? Click here to register your attendance and please note that all registrants are subject to review and approval.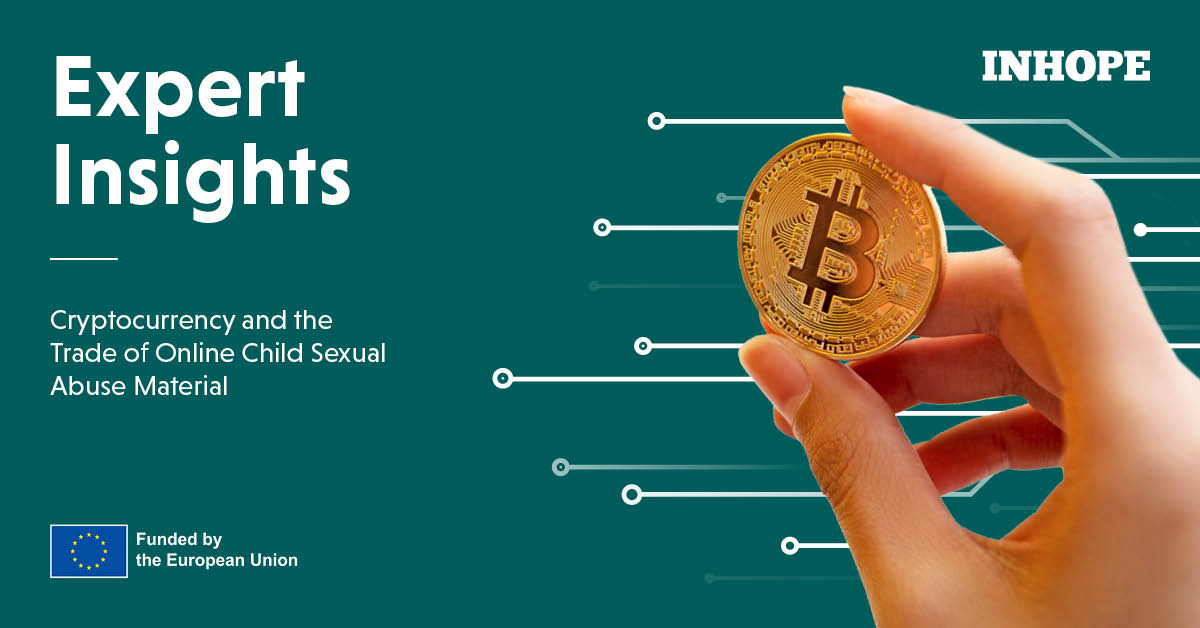 '

This webinar is for law enforcement (especially those specializing in crimes against children and financial crimes), financial regulators and institutions, hotline managers and technology companies in the cryptocurrency space.
Click here to register.

'