Article
Events & Campaigns
Industry News & Trends
We "Talked About It" at the INHOPE Summit 2022
On the 20th and the 21st of September INHOPE held its fifth annual INHOPE Summit, hosted by Amazon Web Services in Washington D.C.


Multistakeholder collaboration is the key ingredient of the INHOPE network. This is why with this unique event we aspired to create a space for stakeholders across different sectors to discuss challenges, talk about opportunities and examine potential initiatives and approaches to collectively combat Child Sexual Abuse Material (CSAM) online.
The Summit consisted of different formats, from a series of presentations concerning why and how we need to communicate about CSAM to panel discussions addressing the role of industries not just from a digital platform perspective, but through the lens of the legal and financial sector. An interview format provided a deep dive into TikTok's trust and safety approaches, while breakout sessions facilitated conversations about the role of each sector – gaming, finance, tech and tourism – in collectively advancing the fight against CSAM; a topic that, outside of the trust and safety space, is not discussed enough.
When it comes to talking about CSAM, people become uncomfortable and tend to avert their eyes and ears. But if we want to generate societal change and achieve our vision of ridding the world of child sexual exploitation and abuse content we need to move this conversation from the Child Protection space to the public sphere.


Pia Shah, Michelle DeLaune, Anna Blue and Dr. Lucinda D. Davenport set the stage for how we need to adjust our communication about CSAM.
Digital education must be more approachable to young people - speak the kids' language.
Creativity is required from online platforms in designing engaging and interesting educational resources for children.
Knowing how to frame the message is key - using emotions to drive a message can be effective, but sensationalism should be avoided.


Lisa Hayes, in an interview led by Anna Blue, examined security within digital communities and shared different approaches to keeping a young user base safe online.
Strict age restrictions with varying permissions for users of different ages.
The digital world reflects children's developmental stages - we can't prevent them from testing boundaries but it is our responsibility to provide in-app resources that teach kids how to deal with them.


Nils Andersen-Röed, Chengos Lim and James R. Marsh examined the role of different industries contributing their perspectives from cryptocurrency, gaming, and law. The speakers agree that responsibilities in keeping children safe online vary across sectors and therefore require different tools, approaches and policies. David Hunter explained the role of safety policies and stressed the importance of making them accessible, not only for legal use but for all digital citizens.


Our Role and Yours
We all have a role to play, do you know yours? We hope that the Summit allowed all attendees to think about their roles and responsibilities in contributing to a global response to CSAM. For INHOPE, our key directions include becoming better at what we do every day, focusing on the victim, and growing our network into countries that currently don't have reporting capacity.


The Summit offers a space for open conversations and the opportunity for collaboration. You don't need to wait until the next annual Summit to be part of the discussion. If you want to get more involved, register for our events newsletter here, to never miss out on exciting things to come.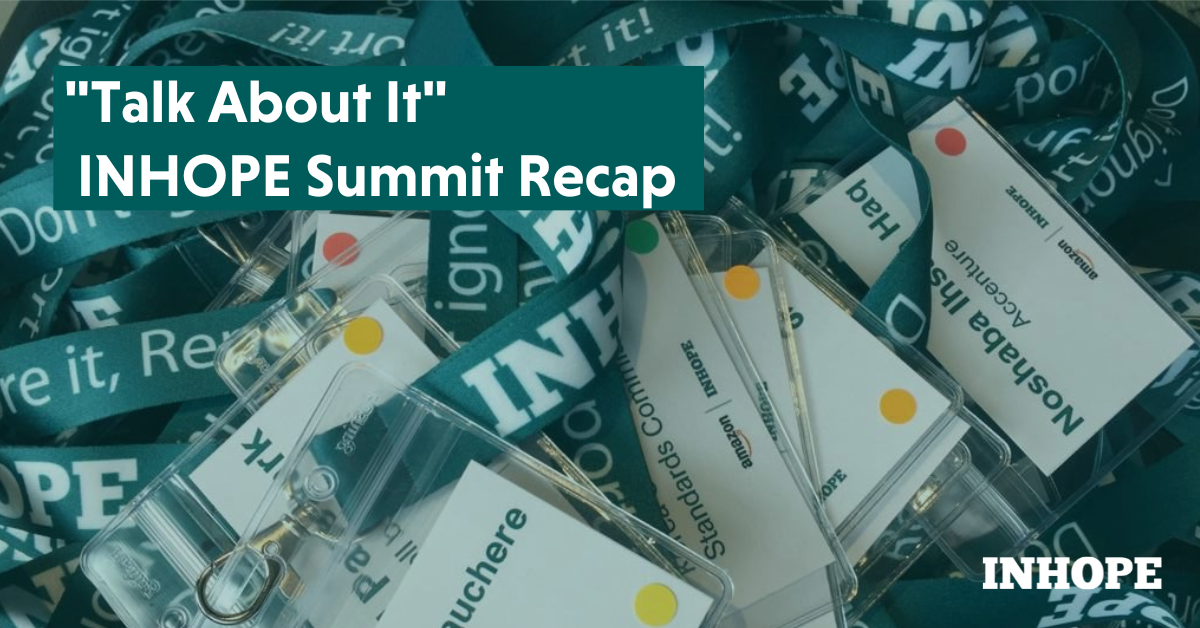 30.09.2022
Photo by INHOPE
'

We all have a role to play, do you know yours?

'