Article
Vulnerable consumers and digital markets
We see continued updates to consumer regulations applied both by the government as well as organisations. This is a step in the right direction, but is it enough being done to protect vulnerable consumers? Since the start of the pandemic, the amount of children online has increased dramatically (largely due to educational requirements) and this has created a new, younger digital community. The continued and increasing presence of children online means they are subjected to consumer targeting by digital markets.

Digital consumer risks to children?
In general, we are able to access whatever we are looking for online, including age-restricted products and services, that are not as easily accessible to young people in real life. While age restrictions apply to targeting and purchasing both on and offline it is far harder to manage this online. And, what about the risks associated with services like social media platforms and games that are intended for children?
Online consumption is just a click away and many parents do not see the risk. Research shows that children are unaware of the impact subliminal messaging has on them and how these messages trigger and change their consumption habits.
While the core functions behind social media and gaming platforms could be stated as community and entertainment, they are clearly also digital marketplaces. Here are some real risks posed to children and young people:
exposure to age-restricted materials
physical harm (data shows that children and old people account for 54% of all product-related injuries).
normalisation of adult content aimed at children
misinformation and misleading marketing
emotional harm through exposure to disturbing, harmful or abusive content (subliminally, through direct exchanges or transactions)
a lack of clear consumer rights for children online
online platform monetisation
abuse gamification: the exchange of explicit content for virtual in-app currency
scams and phishing
Reaching your audience, the right way
The fact is that both online and offline marketing reaches unintended audiences. An example of how industry can protect children and young people online is the expansion of ad-serving protections for teens globally put into place by Google. However, these advertisement restrictions, while preventing intentional targeting of children, do not prevent them from still being reached by digital advertisements. We know that key demographic information is difficult to identify due to how we access the internet, whether that's via the IP of an adult (eg. parent/family home) or through a VPN, among many other factors that make it harder to regulate who sees what.
So, how do you protect young people and children who are having goods and services advertised to them? Parents and guardians cannot be expected to watch every online interaction. How parents decide to educate their children is not uniform and changes from country to country and family to family. What can be done? The New Consumer Agenda from the European Commission presents a vision for EU consumer policy from 2020 to 2025. This update aims to address changes in consumption, defend consumer rights, and tackle marketing practices by enforcing consumer regulations that empower conscious consumers and safeguard digital transactions within the European Union. This agenda aligns with the change we are seeing in society. We have entered the time of the conscious consumer as we demand more information about products we buy, supply chains and the overall ethics of a good or service. This results in a requirement to improve the existing structure of digital markets in order to provide trusted and reliable information as well as self guards for all digital citizens.

Digital advertising is a core part of most organisations' strategic marketing plans and as such children and young people need to be educated on how they can be influenced by this exposure as well as the potential emotional, physical and financial ramifications.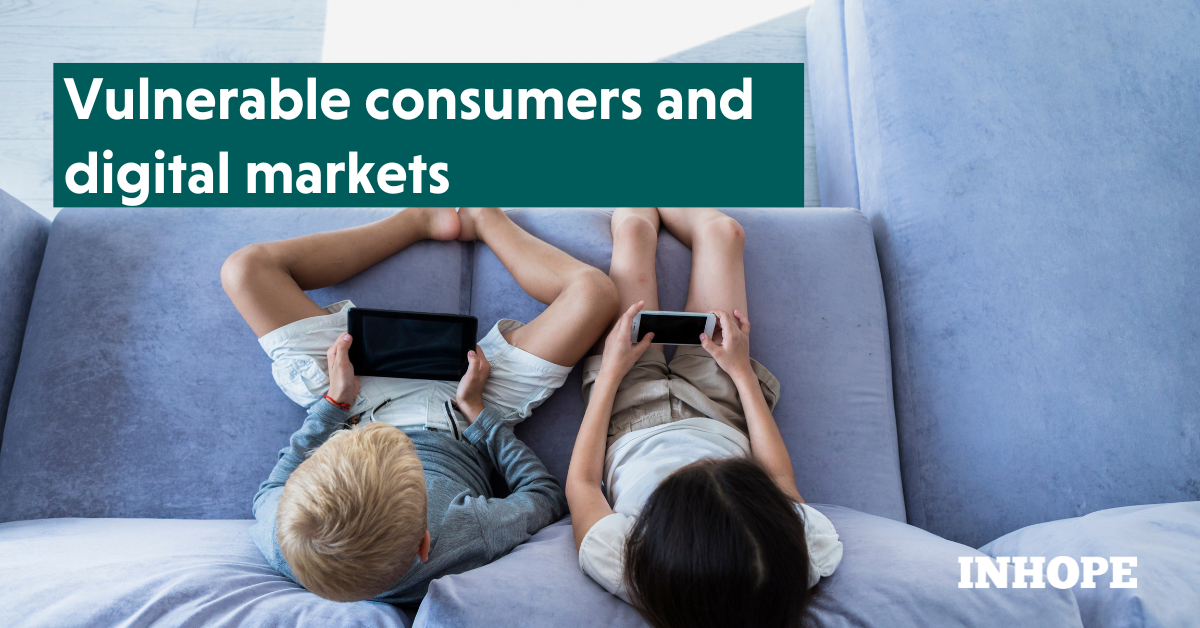 '

Digital advertising is a core part of most organisations strategic marketing plans and as such children and young people need to be educated on how they can be influenced by this exposure as well as the potential emotional, physical and financial ramifications.

'