Article
Events & Campaigns
The impact of COVID-19 on the risk of online child sexual exploitation
Schedule & Registration
Wednesday 14th July, 3PM CEST
Click here to register.

About
This webinar presents the findings of an international research study of the impacts of the COVID-19 pandemic on the risk of online child sexual exploitation (OCSE) from the perspectives of specialist frontline professionals. The study is based on a global survey of specialist law enforcement and OCSE hotlines with follow-up interviews.
The webinar will presenting findings on 1) changes in work conditions and practices, 2) perceptions about changes in offender behaviour and child risk, and 3) the key lessons that law enforcement and hotline workers have learnt from the pandemic. The webinar will also discuss the data challenges in measuring shifts in offender and child behaviour during the pandemic.
The Study was funded by the eSafety Commissioner, Australia.
This webinar is suitable for hotlines, law enforcement, and those who in this field.

Speaker Biography
Dr Michael Salter is the Scientia Associate Professor of Criminology at the University of New South Wales. His research is focused on child sexual exploitation and technology-facilitated abuse. He is the author of two books, Organised Sexual Abuse (2013, Routledge) and Crime, Justice and Social Media (2017, Routledge), and over fifty papers on child abuse, violence and complex trauma. He is an expert advisor to the Australian eSafety Commissioner, White Ribbon Australia and the Canadian Centre for Child Protection. He also sits on the Board of Directors of the International Society for the Study of Trauma and Dissociation.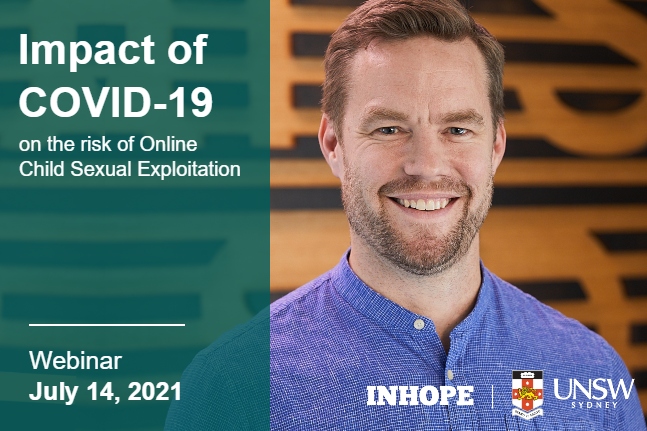 '

Discover the implications for child protection and policing in this webinar. Click here to register.

'