Article
Events & Campaigns
INHOPE Summit 2021 Announced
We are thrilled to announce that the fourth INHOPE Summit will take place on September 21-22. The theme of this year's virtual conference will be Digital First Responders. Sign up to the INHOPE Summit 2021 here.

What is a Digital First Responder?
When you want to stop a disaster or prevent a crime from being committed you turn to First Responders to handle the job: fire fighters, ambulances and law enforcement. The same is true for online crimes. In this environment, Digital First Responders are your first line of defence.
The analysts and content moderators who receive the reports of illegal material online, the teams working to design the technology, policy, and campaigns to facilitate and encourage reporting, and the law enforcement officers who identify and locate the victims and perpetrators. All these people play a part in putting out the fire that is CSAM online, and they all support the ecosystem that makes this possible.
Will you be there?
In order to protect the rights of children and tackle Child Sexual Abuse Material (CSAM) on a global scale, we are seeking all relevant stakeholders to join the discussions. Register, build connections, grow collaboration and unite our efforts. Find out more about the event and FAQs here, or get access to the latest agenda here.
Day 1, Sept 21, 9:00 PDT - 13:45 PDT (18:00 CEST - 22:45 CEST)
Hear from industry leaders including Microsoft and Google
Day 2, Sept 22, 9:00 PDT - 12:30 PDT (18:00 CEST - 21:30 CEST)
Hear from the hotlines working every day to get CSAM removed, including eco, Germany
Should you and your organisation be part of the discussion? Register here.


This event is suitable for member hotlines, Trust and Safety Professionals, Content moderators, Child Protection NGO's, Technology companies, Law Enforcement, Policy makers, Government and stakeholders working in the field of online child protection. All registrants will be submitted for approval.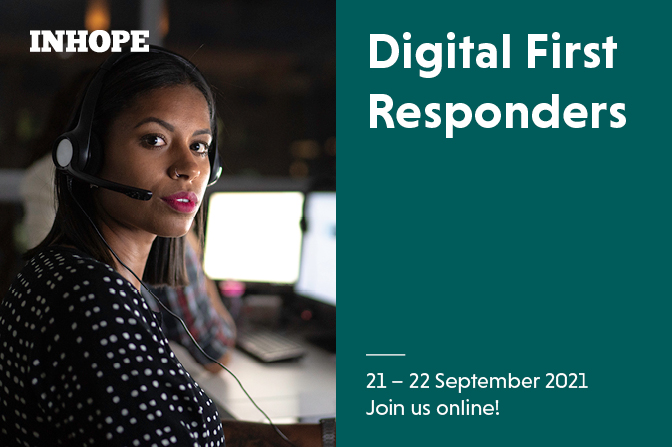 '

Should you and your organisation be part of the discussion? Sign up to the INHOPE Summit 2021 here.

'