Article
Industry News & Trends
Tackling CSAM hosting in the Netherlands
Child Sexual Abuse Material (CSAM) is shared and distributed online creating a global problem in its removal. However, while content spreads online the existence of this material requires a physical hosting location and that means that there is a way to find and remove this content. The reason why hosting providers are essential in the Notice and Takedown (NTD) process is that they have the ability and therefore responsibility to remove this illegal and harmful content from the internet. By not acting we are unintentionally being complicit.
While this problem is global the fact is that most of the CSAM in the world is hosted within a few countries. These countries are chosen for a variety of reasons, a primary one being the IT infrastructure. As we launch our 2021 Annual Report we speak to our Dutch hotline EOKM to get their insights on the previous year. The Netherlands among other countries is dealing with high-hosting numbers and has taken measures to address this. One of the ways the Netherlands is taking a stand and taking back control has come from the former Dutch Minister for Justice and Security, Ferd Grapperhaus, who announced new policies to hold hosting providers to account for the existence of known CSAM on their servers. But, has this strategy made a difference?
We spoke with the Dutch hotline EOKM (Expertisebureau Online Kindermisbruik) to explore the impact of these changes and examine how to reduce CSAM online and clean up the internet.

Has EOKM seen a measurable change since the changes announced by Minister Ferdinand Grapperhaus in how hosting providers respond to NTD requests?
In general, we have noticed an increase in the willingness of parties to cooperate with us and remove illegal imagery swiftly since Minister Grapperhaus published the 'naming and shaming list.' We have noticed that the parties that were named on the list responded in a more timely manner to our NTDs and are often more willing to implement pro-active measures combatting CSAM and child sexual exploitation material (CSEM) on their servers, for example, the Hash Check Service. We have also noticed that a large number of website owners moved their domains to servers outside of the Netherlands since the publication of the naming and shaming list.
What does EOKM believe is the largest obstacle when it comes to NTDs?
The largest obstacles we are currently facing concern the ongoing shift to private domains such as personal clouds and chat applications like Telegram. The EOKM, like many other hotlines, does not have investigative powers. This means that we cannot respond to the chunk of illegal material hidden behind cloud hosting solutions and in private telegram groups. Other difficulties we have encountered recently relate to websites that host inline images that we cannot trace back to a roster or registrar, and websites that 'cut up' images. These websites display large photographs of CSAM on their homepage that are cut up into small pieces that are not necessarily illegal when assessed in isolation. This makes classifying the small pieces and sending NTDs for these separate images difficult.
How can we reduce hosting in the Netherlands?
The measures we have taken in recent years have shown that the hosting of CSAM has declined drastically. Although this has reduced the amount of CSAM in the Netherlands, in total it did not make a difference in the amount of CSAM available. In the Netherlands, we have established a legal framework and a network of actors that allow us to adequately respond to reports of illegal content swiftly. A decrease in the hosting of CSAM and CSEM in the Netherlands does not necessarily equate to a decrease in CSAM and CSEM on the internet in general. We believe - and we have seen this happen since the publication of the naming and shaming list by our minister, that reducing hosting in the Netherlands will incentivize dishonest website owners to move their websites to a hosting provider in an area that does not have the capacity (yet) to deal with this problem in an effective manner.
Key Takeaways
From this interview, we can see that the issue is more complex than it first appears. High hosting numbers do not mean that there is no action being taken. Strengthening policies can promote change but has also resulted in moving the problem from one country to another. Cloud hosting restricts a hotline's ability to remove content and bad actors are finding creative ways to hide illegal material in plain sight. So, what can we say for certain? We know that working with hosting providers is essential in making a difference. We firmly believe that by reducing supply we reduce demand and we can only do this by building and maintaining relationships, not tearing them down.
To learn more about what the Dutch government is doing to tackle CSAM, read about how in addition to the current policies in place they are working on establishing an Authority to deal with child sexual abuse material. More information can be found here.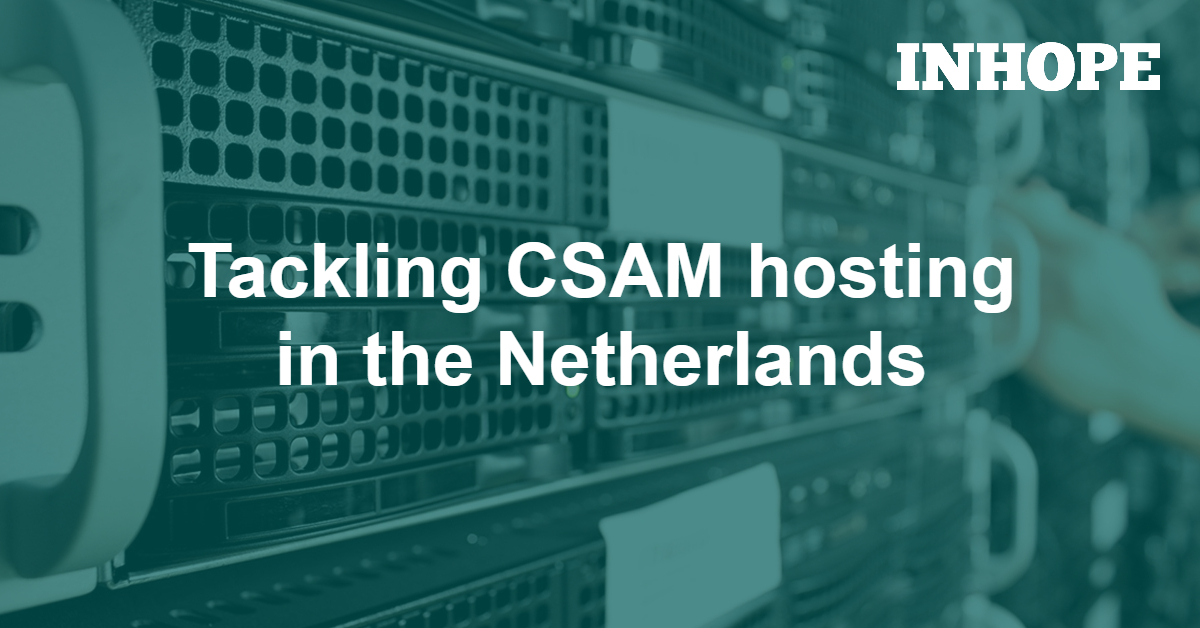 '

We know that working with hosting providers is essential in making a difference. We firmly believe that by reducing supply we reduce demand and we can only do this by building and maintaining relationships, not tearing them down.

'