Article
Events & Campaigns
Industry News & Trends
Recap of the European Virtual Forum: Day One
On March 22nd INHOPE hosted the first day of the European Virtual Forum under the theme Exploitation is Abuse. At this unique online event, funded by the European Commission, we welcomed 18 speakers, and 316 attendees to exchange expertise, investigate current trends in the child protection space, and identify network priorities in collectively tackling the emerging subject of child sexual abuse (CSA) and child sexual exploitation material (CSEM).


"Children are directly affected by technological advancements, but unfortunately not only as beneficiaries but also as victims of some of the worst crimes technology can be used for," stated June Lowery-Kingston, the Head of the Unit and Deputy to the Director at DG CNECT at the European Commission. In her opening presentation, June addressed the rise of CSAM and CSEM throughout the COVID-19 pandemic, a phenomenon she referred to as the "shadow pandemic," which has introduced serious challenges for digital safety. She emphasised the ECs longstanding commitment to protecting children and tackling these crimes. Late last year the Digital Service Act (DSA) was adopted, which creates a harmonised guideline for all illegal material - through the DSA, CSAM and other illegal content is addressed in a clear manner. However, passing this act is not enough, she said and expressed the importance of collaboration in addressing this issue. "We must be firm and united in fighting these horrendous crimes that have been increasing exponentially."


CSAM production and distribution
Providing an insight into CSEM production and distribution, Avi Jager, Head of Child Safety & Human Exploitation outlined several trends identified by ActiveFence within the CSEM landscape.
Platforms can be divided into two types - gateways (i.e., social media platforms, photo sharing platforms) and facilitators (i.e., private servers, messaging apps).
A rise in sextortion cases, particularly in the U.S. with over 7000 cases reported last year alone.
Humanitarian disasters expose children to a vast array of exploitations such as sex trafficking or illegal adoption.
Generative AI being used to produce textual and image-based CSAM at the click of a button. In cases like these, it is not clear who the victim is, which is why it is key to prevent AI material from being generated in the first place. Policy work must aim to address these challenges created through the rise of AI sooner rather than later.
Avi furthermore, explained the challenges of detecting non-visual CSAM and CSEM (contextual cues or exploitative behaviours such as grooming) which constitute the most common type of detected material. Avi explained, that this type of content cannot be detected through traditional moderation processes that depend on visual cues such as image recognition algorithms. However, those non-visual cues often constitute the chain of exploitative behaviours that lead to abuse. So how can those non-visual cues be detected? Codewords, symbols and patterns followed by threat-actor networks could be the key. "In every ecosystem, threat actors follow each other's footsteps, he said." Following these footsteps is critical to identifying and interfering in harmful behaviour online. Behavioural patterns are essential to identifying non-visual CSAM, such as trying to identify grooming by text. Identifying posts, spaces, and videos susceptible to grooming enables a more effective detection process.
Understanding the dynamics of sexual exploitation
A comprehensive comparison of abuse and exploitation material in the European context was offered by
Rebecca Cohen, Director of Research at the Law Reform Commission of Ireland. She explained that CSAM is a byproduct of abuse, as it is a depiction of criminalised actions. For CSEM, the situation is more complicated, as the singular actions leading to CSEM are often not considered criminal. It is usually a pattern of behaviours in which a child's naivety, compliance and sexual curiosity are co-opted and used against them, Rebecca elaborated. But both CSEM and CSAM are a form of either psychological or physical abuse and must be treated as such.
Rebecca appealed to all child protection professionals in the room to point to the analogies to other areas of law, where context determines the illegality of an act or item. In a similar way, she proposed we must look at the process of exploitation and effectively criminalise the actions that lead to exploitative behaviours.
Report Trends 2022
The event continued with statistical insights into CSAM and CSEM based on reporting trends witnessed by four INHOPE member hotlines. The key takeaways were outlined by Emma Hardy - IWF, Jennifer Newman - NCMEC, Carolina Pineros - Red Papaz, and Etienne Dirani - Point de Contact.
Internet Watch Foundation (IWF)
In 2022, 63.050 IWF reports included abuse imagery of seven to ten-year-olds who were groomed, coerced or exploited online - this constitutes a worrying increase of 129% to the previous year.
Self-generated content or content in which the abuser is not present makes up 78% of all reports received by the IWF.


National Centre of Missing and Exploited Children
NCMEC reports of online enticement incidents have doubled since 2020, up to 80.524 reports.
In 2022 NCMEC witnessed a huge spike in reports from Electronic Service Providers (ESP), largely due to financial sextortion led by organised crime rings.


Red Papaz
Te Protejo Colombia received 37,147 CSAM reports in 2022.
51% of these were related to people aged 4-13 years old, with 65% of the reports being self-generated material.


Point de Contact
64% of reports received were of suspected CSAM.
The hotline witnessed an increase of 20% in self-generated content, compared to the previous year.
35% rise in virtual content was also seen (drawings, 3D creations, etc). This kind of content is not illicit in all countries but is an important topic in France.
Tackling each part of the chain
After this comprehensive overview of reporting trends presented by our member hotlines, Amy Crocker from ECPAT International presented her insights on how to successfully combat CSAM and CSEM.
She outlined results from the Disrupting Harm project, carried out with INTERPOL, UNICEF and EVAC , which showed the importance of understanding the context of child sexual exploitation. Top-level findings showed that 34% of children across thirteen countries did not disclose their experience of abuse to anyone. Only 3% called a helpline or contacted the police. For boys, disclosing numbers are even smaller, as shown by the Global Boys Initiative (2021-2023), which engaged in data collection around the specific challenges boys face as victims of sexual exploitation. The main finding was that we are failing boys in work on sexual exploitation, abuse, and child trafficking. Gender norms enforce toxic masculinity and the idea that boys will recover quickly from abuse. It was also found that boys didn't know who to disclose to and signs of harm were not recognised.
Understanding the socio-economic context in which CSEM and CSAM take place, is critical in addressing these crimes, Amy shared. "We need legislation that is fit for purpose, evidence-informed policies and programmes that listen to survivors." There are differences in experiences when it comes to disclosing abuse and seeking help. Children of different sexual orientations and gender identities, as well as children with disabilities, face different challenges, Amy explained and stressed the importance of an intersectional approach to CSEM.


Highlighting Network Priorities
Samantha Woolfe, INHOPE's network expansion lead closed the first day of the EVF by looking back at the main takeaways from previous sessions. "We want to highlight the network's priorities – what's happening outside the network affects the network," she expressed. The main takeaways are, that we must address areas for development in our collective efforts on issues such as harmonising definitions, adapting legislation, cross-company data-sharing and cooperation between stakeholders in the child protection space. If we want to tackle these issues effectively, it is critical that we improve our understanding of and responses to emerging threats such as the sextortion of boys, and address CSEM at each part of the chain.


On the second day of the EVF speakers and attendees identify action steps for all stakeholders to tackle CSEM more effectively in the future. Click here to read the recap for Day Two.


This event is funded by the European Commission as part of the Better Internet for Kids Programme under the Connecting Europe Facility of the Directorate-General for Communications Networks, Content and Technology.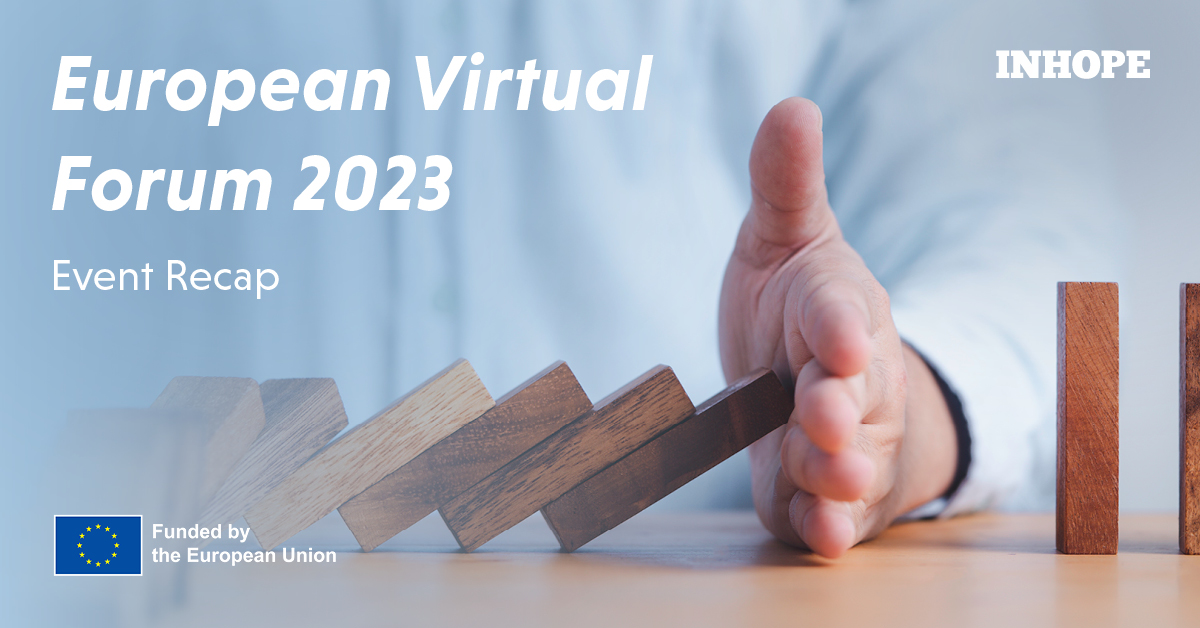 '

Click here to read the recap for Day Two.

'