Article
Educational Articles
Is Report Box for You? Creating a CSAM Reporting Portal
The INHOPE team were out in full force on Thursday 6th May to introduce their new EVAC-funded software tool Report Box. They were met by an audience of potential users from all around the globe.

Setting the scene
Dushica Naumovska, INHOPE's Programme Manager, began by sharing the vision for Project ESCAPE, which the Report Box tool forms one component of.
"As a network of hotlines, our vision is to remove CSAM, but to do this we need the public to report it to us. We want to create an eco-system where all citizens can report CSAM to an authorized internet hotline."
Working through four key pillars: technology development, network expansion, capacity building, and communication; the ESCAPE team intend to set up 4 new hotlines in 2 years, and guide and train them into becoming full INHOPE members.

Removing the obstacles
Next, Kalina Zografska took the stand, drilling down into the technological component of the project, and expected results of Report Box.
Report Box offers the ability for approved organisations to create a simple reporting form, requiring only a domain to get started. The tool currently works for one user, in one language, per organisation. However it's going to become a multi-language, multi-user tool. It is now in the Beta version so is constantly being developed.

"Making a report must be straightforward."
Turning to INHOPE's Training Manager, Suzanne Wissenburg then walked participants through the tool, including how to change the form to suit the specific user (hotline)'s needs. Check out this video for a short summary.
The key takeaways?
It's secure, and works in combination with the secure portal ICCAM, so no need to set up your own secure report form
Everything is processed online so you don't have CSAM in your local network
Only the user with the SSL certificate can get access
It's a plug and play solution so easy and straight forward to use
All admin is inside the tool, locked up but downloadable if needed
Support is always available at reportbox@inhope.org

"Country ownership of the problem of CSAM is crucial"
The last presenter was Samantha Woolfe, INHOPE Global Partnerships and Expansion Lead, who started with two questions: Why are you here? Why are we here?
We are all here because we share the vision of an internet free of CSAM, and we want to do something to achieve it. At INHOPE, we believe hotlines must be at the centre of a country's national response, because it starts a national conversation about the problem of CSAM.
"Report Box represents responsibility – it's not just about recognizing a problem. When we recognize a problem, we need to find a solution. As that solution, we offer you Report Box."

Is Report Box for you?
Attendees wanting to start using Report Box focussed their questions on the practical details of the tool. These included whether the tool would be free to use (yes), whether reports could be made anonymously (yes – they're anonymous by default), and how a country gets onto INHOPE's Network Expansion Plan (by contacting reportbox@inhope.org so we can get to work!)

Contact communications@inhope.org directly to get access to the full recording or go to the Report Box website to learn more!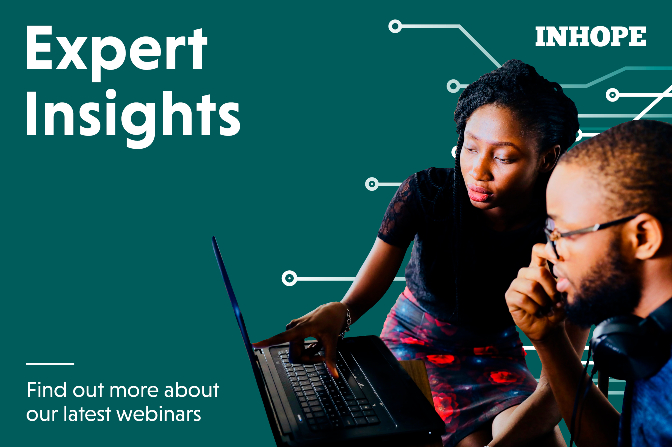 '

Report Box represents responsibility – it's not just about recognizing a problem. When we recognize a problem, we need to find a solution. As that solution, we offer you Report Box - click here to find out more.

'