Article
Educational Articles
Hotline & Network Updates
Guidelines for Ethical Research on Sexual Exploitation Involving Children
ECPAT Taiwan, ECPAT International and Taiwan National Chung Cheng University released 'Guidelines for Ethical Research on Sexual Exploitation Involving Children' in late 2019, aiming to provide clear and easy-to-understand guidance to researchers and practitioners. Due to highly sensitive research on sexual exploitation of children (SEC), it requires careful consideration of research ethics. However, there was no particular guidance on this topic. These three partners therefore started the project of Ethical Considerations in Research on Sexual Exploitation Involving Children in 2018 to address it.
This project formed a global working group and completed the literature review in early 2019. After consultation and pilot-tested in India, Taiwan and Zimbabwe, the Guidelines for Ethical Research on Sexual Exploitation Involving Children released in late 2019 following an international conference on ethics in SEC research held in Taipei in September 2019.
The guidelines emphasize being simple and practical. Seven ethics topics including child participation, methodology considerations, informed consent, privacy and confidentiality, suspicions and disclosures of abuse and exploitation, payment and compensation, and conflicts of interest are elaborated in guidelines. Each topic has a brief description followed by a series of ethics tasks that assist researchers to reflect their research project. The guidelines hope to assist researchers to minimize risk and protect child participants during the research process.
We encourage the wide dissemination of the guidelines and hope the guidelines become an essential tool to promote high-quality research that establishes reliable evidence to end the sexual exploitation of children worldwide.
Find the Guidelines here.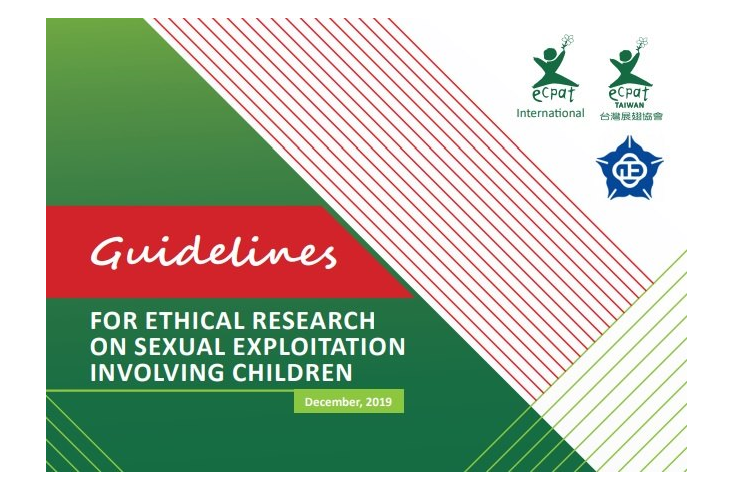 15.04.2020
- by ECPAT Taiwan
Photo by ECPAT Taiwan, ECPAT International, INHOPE, Taiwan National Chung Cheng University
'

The guidelines emphasize being simple and practical.

'