Article
Events & Campaigns
Industry News & Trends
Grooming & Proactive Victim Protection
INHOPE hosts "Grooming & Proactive Victim protection" on Thursday 10th February 2022.
The topic of this focus group is Grooming & Proactive Victim protection which will highlight the global impact of grooming. Following the keynote, we will explore in an open discussion the current trends around grooming activities and how these activities have changed over time. Next, we will take our learnings from the breakout room sessions forward into a panel discussion with the room facilitators.
After a short interlude, the audience will return to hear a technology industry approach to tackling grooming followed by a law enforcement presentation on why prevention is essential to victim protection. The goal of this Focus Group is create an exchange of knowledge sharing that can be applied to future awareness-raising activities that specifically address grooming online.
Time: 15:00 CET (09:00 ET) to 20:00 CET (14:00 ET)
Where: Online using Microsoft Teams
Download the agenda. Please note: Registration CLOSED.
This event is funded by the European Commission.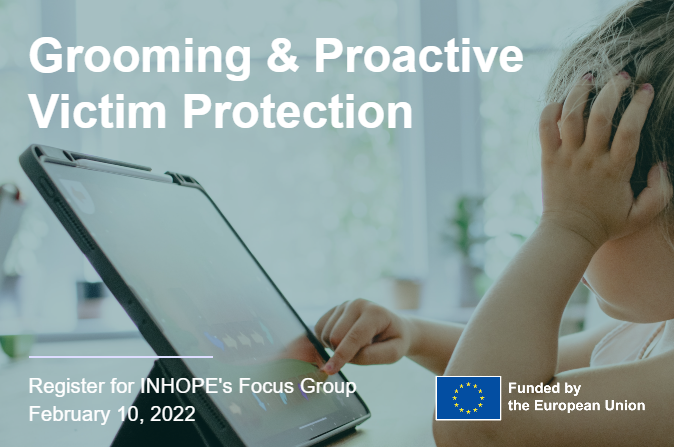 '

Invite ONLY Focus Group for hotlines, law enforcement and technology companies.

'