Article
Events & Campaigns
Webinars 2022
As we move closer to the fifth annual INHOPE Summit 2022 our Expert Insights season has come to an end. This year we hosted nine webinars with over 1030 registered attendees that brought together stakeholders, encouraged discussions, and facilitated collaborations amongst actors supporting the fight against Child Sexual Abuse Material (CSAM). We are truly grateful to have been able to welcome so many speakers from a diverse range of fields all connected by the common goal of child digital safety.


The season was kicked off with Cryptocurrency and the Trade of Online CSAM which followed an insightful panel discussing approaches to identifying offenders relying on cryptocurrency. This session specifically emphasised the importance of collaboration between the public and private sectors.
Next up, two expert speakers discussed The consequences of sharing non-consensual content. They provided the audience with an overview of how we can collectively strengthen our efforts to prevent the spread of non-consensual material.
The third webinar of this season was held by Special Agent Austin Berrier, who presented his professional insight into the rising phenomena of Live-streamed abuse of Minors. He shared different law enforcement approaches to combat this issue and encouraged all attending stakeholders to invest in preventative methods.
In the following week, INHOPE hosted an internal webinar, led by Verifrom founder Emmanuel Sellier, which is exclusively available to the registered attendees.
Continuing on the topic of newly researched phenomena, in the fifth webinar Niels van Paemel commented on the current state of our media environment and discussed the implications of Transactional Sexting and self-generated content.
The next webinar was hosted by our Chief Operating Officer and Technical Product Manager who guided the audience through a Deep dive into the INHOPE Annual Report which illustrated the most striking developments, insights, and data from the recent year.
Jumping into the seventh session, which was all about maintaining good mental health. Our partner Microsoft shared their Best Practices for Developing Resilience in the Digital Safety field and provided all necessary resources for participants to develop a personalised wellness plan.
Psychologist Dr. Elizabeth Jeglic, commented on the current inconsistent legislative response to online sexual grooming and advocated for the development of a global definition.
Last but not least, two Better Internet for Kids (BIK) Youth Ambassadors taught attendees how to create a successful campaign targeting young people and discussed why it is important to focus on proactive approaches when communicating about serious topics.


We would like to express our gratitude to everyone who was involved in the success of this season: all expert speakers who shared efforts, resources, and ideas, their supporting teams, the European Commission for funding the Expert Insights season, and of course to you, our attendees for asking questions, sharing your expertise, and enabling lively discussions. We are looking forward to putting all the things we learnt into practice, building on the new relationships we've created, and continuing our collaborative efforts. Get in touch at communciations@inhope.org to share your highlights, and tell us what topics you'd like to hear next year.
Can't wait until next year for the next season of Expert Insights? You don't have to. Sign up for our events updates to learn about our upcoming INHOPE Summit 2022, and stay up to date with all upcoming events hosted by us and hotlines across the network.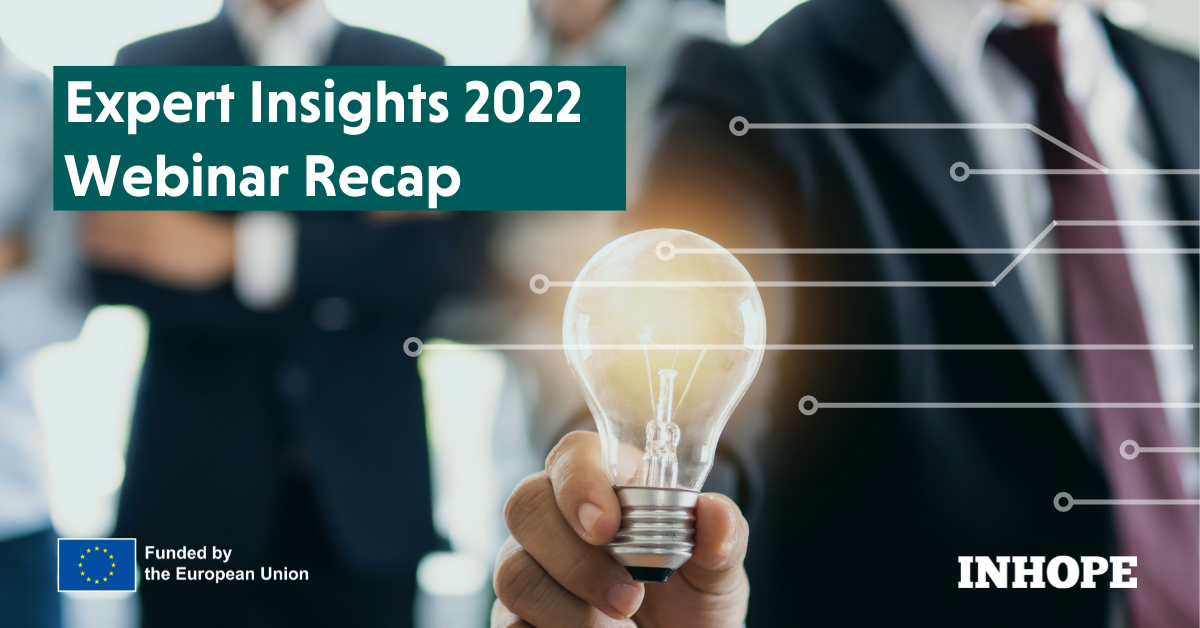 30.06.2022
Photo by INHOPE
'

Click here to learn more about upcoming INHOPE events.

'