Article
Hotline & Network Updates
ECPAT Taiwan petitioning for amendment to Child and Youth Sexual Exploitation Prevention Act
Thousands of children across Taiwan have been subject to sexual exploitation and abuse each year. ECPAT Taiwan's hotline- Web547 received 437 cases of CSAM/CSEM in 2019. According to statistics released by the authority, the average annual growth rate of child sexual exploitation is 4.4% in the past decade, especially with the increasing number of Internet-related child sexual exploitation cases. Worse still, the provisions of Taiwan's Child and Youth Sexual Exploitation Prevention Act appear to be rather lax in tackling the offense of possession of child sexual abuse materials with an administrative fine of maximum NT$100,000 (€3,209) without a criminal record for the first offender. The second offender will be subject to a criminal penalty of maximum NT$200,000 (€6,418).
Therefore, ECPAT Taiwan co-operated with several local NGOs to initiate a petition requesting the government to increase the penalties for offenses related to producing, distributing, and possessing child sexual exploitation materials. This petition also urges the government to introduce legislation particularly addressing the growing phenomenon of online grooming, and set up an inter-ministerial commission dedicated to child online safety to ensure a safe online environment for children.
Now ECPAT Taiwan is pleased to announce that this petition has passed its threshold of 5000 signatures in just 14 days! The government will release its responses to the petition in 2 months, in the meantime, ECPAT Taiwan is actively lobbying legislators to support the draft amendment it provided and bring it to parliament debates in the coming months.
Find out more about ECPAT Taiwan here.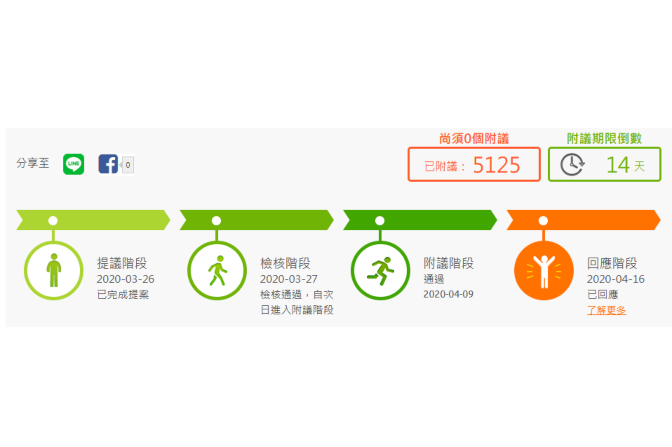 13.05.2020
- by ECPAT Taiwan
Photo by ECPAT Taiwan, INHOPE
'

This petition has passed its threshold of 5000 signatures in just 14 days!

'