Article
Hotline & Network Updates
APLE Launches Internet Safety Courses for Professionals Working with Children.
Since 2016, APLE has operated its internet hotline, which has been an imperative tool in the fight against Online and Offline sexual exploitation of children in Cambodia as it is a tool for the public to report any suspicion of abuse anonymously. The hotline has now successfully launched an Online Learning Center which is currently running a free of charge course on Internet Safety for professionals who work with children.
Within the course, participants are given the tools to identify possible Online Child Sexual Exploitation (OCSE), such as possible characters or behavioral traits the child might present, ways in which OCSE operates, legal tools, how to respond to abuse and support the victims, among many other educational resources.
The course takers are expected to complete six modules, each one presenting one exam to test the knowledge learned, as well as an additional final test. Upon successful completion, a certificate is awarded which can strengthen their professional curriculum.
In a launching event in Phnom Penh on October 9th, participants took the course on the spot. Ms. Ny Vatey, a course taker who passed the test with the highest score among the group of attendants (100/100) said: "This course is extremely important and relevant to current times when children are using smartphones and social media from a very young age. I am going to share this knowledge with my peers".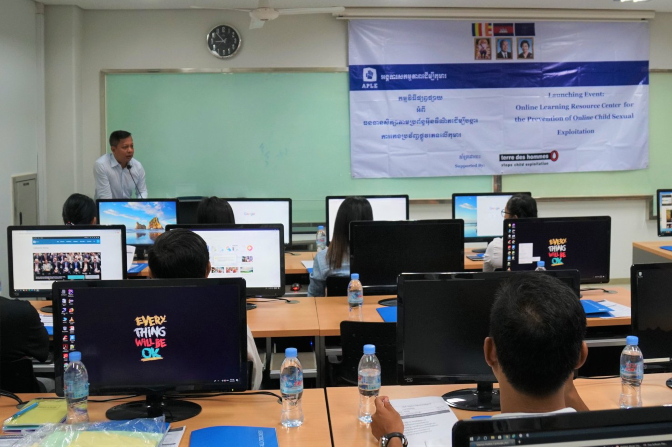 14.10.2019
- by APLE Cambodia
Photo by APLE Cambodia, INHOPE
'

We invite professionals to take the course and test their knowledge in the following link.

'