Article
Educational Articles
What is online child sexual exploitation?
Online child sexual exploitation refers to the usage of the internet or communication technologies as a method to facilitate the sexual abuse of children and adolescents. This can take place directly online or through a combination of offline and online interactions.
In a rapidly evolving technological world, children are increasingly connected as they navigate the online environment. However, it also poses a harmful risk because this exposure and increased presence on the internet gives offenders an easy way to reach children. These offenders will misuse online environments to sexually exploit minors.
Online child sexual exploitation is difficult to detect because of the different forms of communication looking at a combination of audio, text and video content being interlinked, which current technology cannot scan and assess. Furthermore, there are the challenges faced by transnational contacts and the implication or lack of legislation.

What are examples of online child sexual exploitation?
Online child exploitation can affect any child or young person regardless of gender, age, race, or economic background. It exists in several varying forms that can include the following.
Grooming: A tactic offenders use in order to befriend or develop a relationship with a minor in order to gain their trust, lower their inhibitions and prepare them for sexual activity. This can be done through compliments or by giving gifts or money.
Sexual extortion: Coercing a victim into producing sexually explicit images or videos through threats, gifts, or manipulation.
Sexting: Sharing explicit images or videos over text.
Child sexual abuse material (CSAM) collection, distribution, sharing or production: Any photos or videos of a child engaged in or is depicted as being engaged in explicit sexual activity.
Live streaming: When child sexual abuse material is broadcasted live to a viewer through streaming via the internet. Offenders pay, direct, and view this abuse from home.
Self-generated content:: Ashamed of their own self-produced content.

What is the impact of online child sexual exploitation?
The child may be too scared or ashamed to share that they were subject to abuse with authorities but instead with someone close they know.
Changes in their mood and/or behaviour. I.e. they may act distant, secretive, sad, depressed.
Sudden estrangement from the family.
They have received gifts or sums of money from an unknown source.
Doesn't show up at home.
Is always fatigued and lethargic.
Absent from school or has poor performance in the classroom.
Has inflicted self-harm
There are different types of abuse that occur. The range is not limited to commonly known forms of abuse. Therefore, it's important for individuals to self-educate themselves because online and offline abuse have similar mental health implications which can be damaging to the child.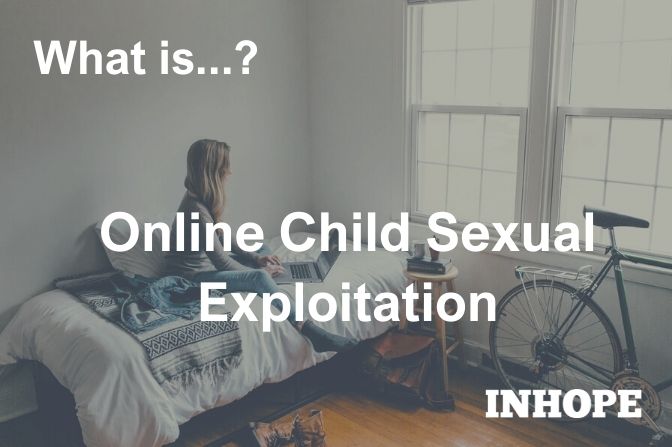 06.12.2021
- by INHOPE
Photo by INHOPE
'

If you'd like to learn more about topics like this, then
click here to sign up for INHOPE Insights and Events.

'