Article
Events & Campaigns
Webinar Recap: Understanding Gaming Nuances to Protect Youth Audiences Online
As online games continue to play an increasingly essential role in the lives of young people, ensuring their safety is at the core of many discussions worldwide. But what makes games so special and unique for young gamers? And what can be done to improve digital safeguards in games? These were some of the questions addressed by GamerSafer during last week's webinar. Maria Oliveira Tamellini, Co-founder of the organisation spoke on gaming dynamics and features, existing safety measures, and the importance of innovation and collaboration to accelerate young gamers' protection.


90% of 13-17-year-olds in North America play some type of online game, with 90% reporting positive experiences, according to data released by the Anti Defamation League (ADL). Most online games are highly interactive and provide a unique level of engagement that is hard to find on other platforms. Games can allow players to make choices and decisions that affect the storyline or gameplay, and they offer exciting characters and challenging tasks. There is also a strong sense of participation and connection when you play together, share experiences over time, or join a group with the same passion.
At the same time, it's undeniable that online environments come up with challenges and risk factors. The same report from the ADL showed 67% of minors between 10 and 17 have experienced harassment in online games. Recognising these existing challenges is critical in understanding the gaming landscape and developing realistic and effective approaches.


Paths to Online Friendship
For many children, online multiplayer games may be one of the first online experiences involving social interactions, a space to connect with people with similar interests and make new friends. "One of the most fantastic aspects of online games is the opportunity to collaborate and work with other players," Maria explained. This can teach kids effective communication and coordination skills and can create a strong sense of community and friendship. In games, friendships can be formed around alliances, similar interests or passions, or via social features such as in-game chat, events, and item exchange.
Besides connecting with existing friend groups, games also offer bonding and connection opportunities when players team up to achieve shared goals, join a world focused on a shared interest, or watch a streamer together. Understanding these elements is essential to improve young players' safety. Bad actors tend to try to exploit these "friendship" opportunities and social features in gaming platforms to access, engage and build relationships with minors.


Online-only Connections are the New Normal
The elements that facilitate connections are part of most online games, and recent data from Thorn's Online Grooming research reveals that only 14% of minors categorised online-only connections as "strangers." The same study highlights that online connections are considered as closest friends and confidants for 1 in 3 minors. 70% reported talking about shared interests like gaming, pop culture, and/or hobbies with their online-only contacts. Acknowledging these trends is a relevant part of our collective work, Maria explained.


Other Online Gaming Nuances
Moreover, there are other nuances that should be considered when implementing digital safeguards for young audiences. Maria provided more context on player matchmaking, social features and in-game currencies.
Match-making: Each game will have a different approach to matchmaking, but the main focus lies in pairing players together based on technical and performance metrics to create balanced, fair and competitive gameplay. Consequently, a variety of players of different age groups, language preferences, and gameplay styles may be paired together.
Social features: Most online games have diverse social features that allow players to interact with each other, form relationships and collaborate towards a shared goal. These can exist in the form of chat and messaging functions, activity feeds, friend lists, gaming communities known as guilds or clans, or social media integrations. Social features play an essential role in bonding and online friendship dynamics.
In-game currency: Next to social interactions, earning in-game currency can serve as a motivator for youth to continue playing and improving their skills. But in some instances, these currencies can have negative connotations. Young gamers might feel pressured to earn more currency to fit in with their peer group or be seen as successful. These elements of online games can be leveraged by offenders to target potential victims.


Interconnectivity between Online Environments
The interconnectivity between online platforms is a growing trend and has natural implications for young gamers. It's common to start chatting in-game and move to other digital platforms. Perpetrators will seek to move conversations to private messaging on other platforms to protect themselves and isolate the victims. They will also use the isolated nature of such spaces to their advantage.


Available Safety Tools
Maria outlined different safety features currently available for multiplayer games, such as chat filters, reporting systems, human and AI-assisted moderation, blocking, parental controls, and player/staff verification. There is no one-size-fits-all protection solution for game developers, and each will have its benefits and limitations. When combined, they are powerful, but on their own, they will have a limited impact on safeguarding young players from harm, Maria explained. She furthermore highlighted tools that enable intervention "before the fact". Preventative approaches are game changers in combatting child sexual abuse and exploitation. Blocking sources of criminal, predatory or harmful conduct and minimising them as much as possible should always be the primary goal of any safeguarding approach. You can find some more concrete examples of holistic safeguarding measures here.


Closing Thoughts
In the end, Maria emphasised one of the presentation goals was to serve as a conversation starter. Delivering player safety at scale is longitudinal and a shared mission. To continue fostering cross-sector collaboration and having more discussions about the effectiveness of different measures in reducing risks and harms is imperative. "I do see us working together to address this challenge. We are just getting started." She sees an opportunity to have more constructive conversations involving industry, civil society, regulators, and different service providers. Each one of these players has a unique role to play in the complex puzzle of player safety. Young gamers' perceptions, rights and needs should also be considered.
Maria stressed that parents and caregivers must engage as much as possible in their children's gaming experiences. Understanding that online friendship is the "new normal" is essential in developing a consistently open conversation with kid's about their gaming experiences. Leveraging parental controls when possible and remembering that each different game and device may require new restrictions is just as important as acknowledging that most parental controls will have their limitations. That's why parents shouldn't be alone in this task. Protecting young gamers is a shared responsibility involving all online social platforms, governments, civil society, gamers, and their families.


Do you work in the tech industry or gaming and would like to contribute to safeguarding youth in online gaming environments? Visit GamerSafer's website.
for more information and collaboration opportunities.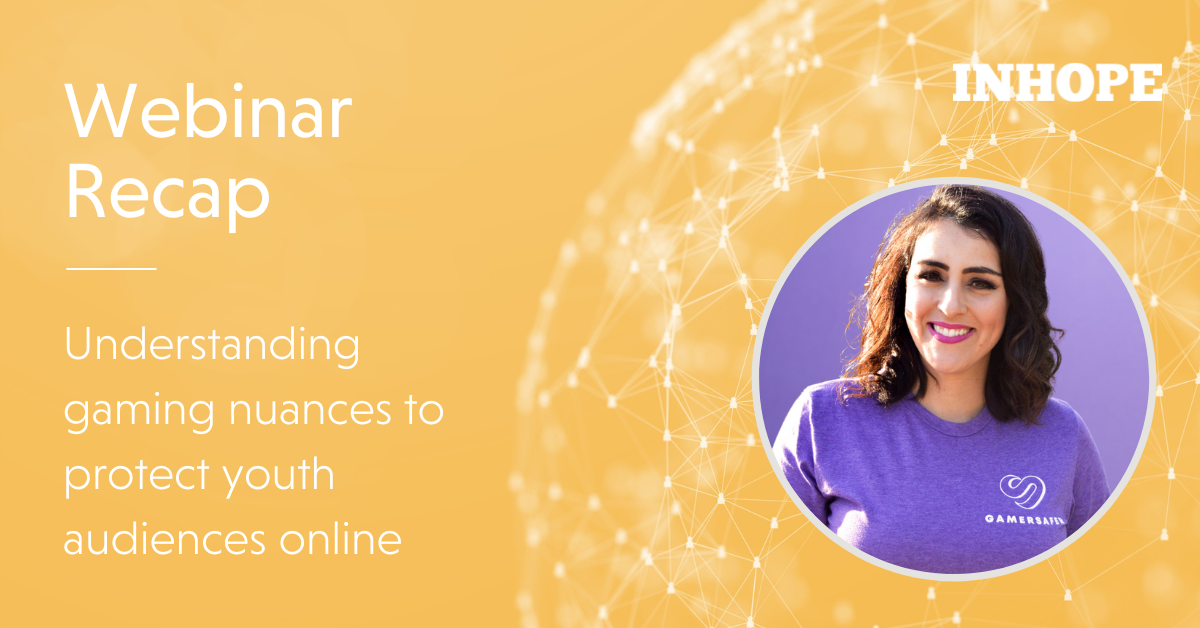 '

Blocking sources of criminal, predatory or harmful conduct and minimising them as much as possible should always be the primary goal of any safeguarding approach.

'