Article
Hotline & Network Updates
Violence against women and children: the real pandemic challenging South Africa
"Nearly 42% of South African (SA) children have experienced some form of ill treatment and 82% have experienced or witnessed some form of victimisation" (Optimus National Prevalence study). "During Covid-19 Lockdown, many more children in SA spent leisure or study time on digital platforms, potentially creating a further spike in the exposure to harmful content. Additionally, many who face abuse daily were holed up with their perpetrators at this time," says Acting CEO of the SA Film and Publication Board (FPB), Ms. Abongile Mashele.
The rapid adoption of internet services creates additional challenges in developing educational and support services, law enforcement and regulatory responses. Anonymisation tools and encrypted peer-to‑peer file-sharing networks give offenders easier, more secure access to vulnerable children and to the networks of people who share a sexual interest in children.
FPB participated in the annual 16 Days of Activism for No Violence Against Women and Children campaign in November/December 2020, under the theme "From awareness to accountability: Galvanizing action to end violence against women and children in the digital space".
FPB Child Protection Officer, Murendeni Muridili, stated that often teenagers argue that "it is my body, I can do whatever I want". But teenagers do not consider the consequences of their online images being "traded" or shared. In SA, the Films and Publications Amendment Act 2019, poses harsh penalties and criminalises distribution of naked pictures without consent through a fine, imprisonment for two years or both.
Find out more on FPB's website.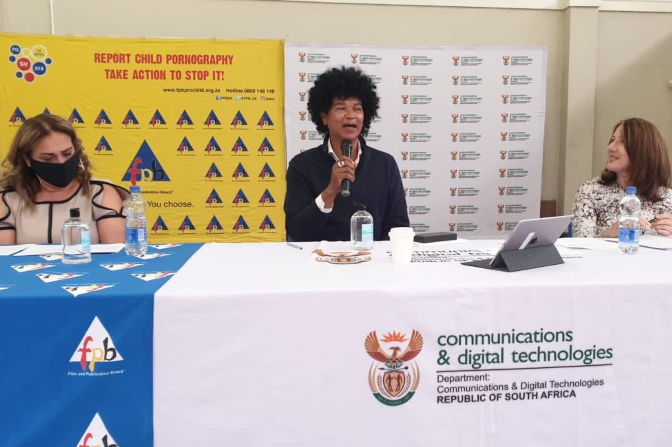 10.12.2020
- by Film and Publication Board
Photo by Film and Publication Board
'

The rapid adoption of internet services creates additional challenges in developing educational and support services, law enforcement and regulatory responses.

'