Article
Hotline & Network Updates
The future expansion of Report Remove
Discover the development of the Report Remove tool, a partnership project between the Internet Watch Foundation (IWF) and National Society for the Prevention of Cruelty to Children (NSPCC). IWF Internet Content Analyst, Lucy, who has years of experience in helping combat child sexual abuse discusses future plans.

What is the benefit or impact of using a child-centred approach?
A young person from the UK (under the age of 18) is able to complete the reporting process online. Therefore, confidentiality is further ensured, as their ID is not linked to the report. They can make the report at any time and further information and support are always available from the Childline website.
Young people have access to trained Childline counsellors who know the devastating impact that the sharing of nude images can have. The IWF and Childline provide these resources because they believe in helping them regain control and in having content erased.
Repeated viewing and sharing of images revictimise the young person. Potential harms include blackmail, coercion to engage in more image sharing or to children becoming victims of further abuse. If no action is taken to remove the image, it can leave young people living in constant worry as to who may have seen their image, prolonging well into their adult lives.
The tool has been developed in collaboration with law enforcement and in keeping with this child-centred approach, this tool will function as a support to children, meaning that no unnecessary interactions with law enforcement will occur.

What are the future plans for Report Remove?
The IWF and NSPCC are investigating what changes could be made that would enable content to be removed, without requiring children to provide photo ID to prove their age. It is acknowledged that children aged 13-17 must currently have a form of photo ID to use Report Remove, and this could be a significant challenge for some individuals.
The IWF's remit only covers confirmed child sexual abuse material (CSAM) in line with UK law. Clearly there is a whole spectrum of potentially harmful content that children may want removed that doesn't meet the illegality threshold. This creates another challenge that Childline and the IWF are looking at addressing which is that children are reporting content which does not meet the threshold of illegality. However, this content is still harmful to that child and this is why the topic is very much in focus right now, with the development of the Online Safety Bill in the UK. The future for the tool should look to address this gap and both organisations are keen to look into this.

How are you going to expand into new countries?
It has taken many years to research and develop this tool in the UK. There are many factors that will need to be considered at local level in another country - laws relating to child sexual abuse content online, data protection and privacy, and of course the welfare and support services available to assist children with going through what may feel a very daunting process and be a distressing time. Currently, there are no plans to make the tool available internationally. However, it is something that may be explored in the future.
The IWF and NSPCC are very proud of our progress with the Report Remove tool so far and both organisations are happy to consider authorising the use of the Report Remove branding for any such replica tool if it were to be developed by other countries.

How do you envision the tool moving forward in the next 5 years?
The IWF image hash list is being increasingly used by the industry to prevent CSAM from being uploaded onto their services. Going forward, the UK Online Safety Bill is being developed with a view to making the UK the safest place in the world to be online, and platforms will be required to have better protections in place for the prevention of child sexual abuse, and the removal of child sexual abuse images circulating online. Tools like Report Remove will help to accelerate the process whilst giving children a tool to support their own safeguarding.
Systems like Report Remove should not be needed. However, as of now, they are a necessity. "In line with current and proposed regulatory regimes, for example, the ICO's Children's Code and the upcoming Online Safety Bill , sites are required to implement appropriate user-friendly reporting functions.
Article Credits - by Internet Watch Foundation
Check out the What is Report Remove article.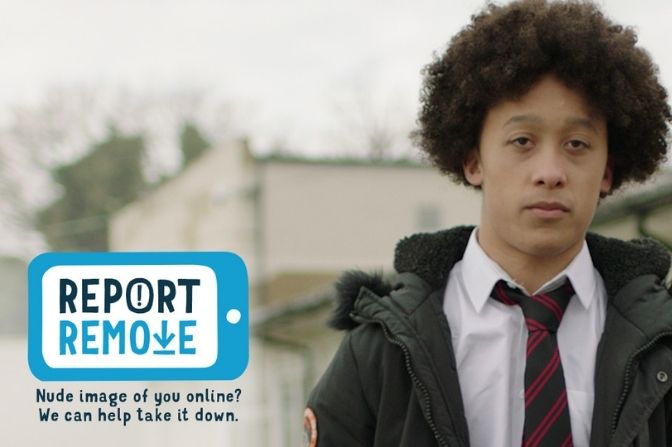 03.02.2022
Photo by Brickwall. The children pictured are models.
'

If you'd like to learn more about topics like this, then
click here to sign up for INHOPE Insights and Events.

'