Article
Industry News & Trends
Partner Updates
Safety-forward approach: Yubo partners with INHOPE
Amsterdam, The Netherlands, October 12, 2023. With more than 80 million accounts created on the platform since its launch, our newest annual funding partner Yubo is a key player in the friendship discovery ecosystem. Founded in 2015, the French online platform is geared towards Gen Z, offering global social discovery.


Over the past two years, Yubo has proactively worked with the INHOPE Network to build a relationship that focusses on a safety-forward approach. Yubo's safety strategy implements a core principle of user empowerment; using education to build self-awareness; and safety-by-design technology.
Users of the platform become part of the community they join, and as part of the community comes a level of responsibility. This responsibility creates resilience as users are conscious to consider their own safety, as well as the safety of their online network. To support this approach, Yubo works with the broader technology industry, NGOs, and nonprofit organizations to create and share industry-led child protection standards and develop 'in-app' safety awareness campaigns.
Prevention is a very relevant approach for an online platform that offers voice, video and text interaction as these different forms of communication require vastly different content moderation.


"Creating a virtual space for Gen Z that feels innately safe and fun is a feat, and Yubo has succeeded, working hard to make it so every day. INHOPE always advocates the importance of content moderation as an essential element of any positive online platform, alongside the power of prevention efforts to keep users safe, both of which are at the core of Yubo's considerations as they develop new features. Having worked with Yubo for some time now, knowing Yubo's leadership's serious 'safety first' attitude, and having collaborated for two decades with some of its Safety Council members, I am delighted that they are INHOPE's latest funding partner. I welcome Yubo to INHOPE and champion their efforts." - Samantha Woolfe, Head of Network Expansion and Global Partnerships at INHOPE


Building an online community comes with the challenge of continually developing and implementing robust tools and policies to mitigate safety risks. Yubo's product team has included safeguards as core components of the app throughout its development and ongoing updates. In addition to highlighting the value of harm prevention, Yubo simultaneously works to ensure that they are able to detect platform violations and intercept bad actors' behaviour to the greatest extent possible using AI technology and comprehensive oversight from human Safety Specialists. Yubo is the first major social media platform in the world to implement real-time moderation of livestreams, among other groundbreaking technical advancements in online safety.

"Our user's experience is what drives the expansion of their social groups through the platform and their affinity for the community we have built in over 100 countries on Yubo. We want to support and inspire young people globally, and we know that encouraging positive interactions and reducing harm to the greatest extent possible are essential to achieve this. Trust is a key measure of our success as an online platform, and we are excited to have become a partner of the INHOPE Network to further enhance the Yubo user experience." - Sharone Franco, Head of Public Policy and Legal at Yubo

While leveraging content moderation tools is crucial for aiding Trust and Safety teams, Artificial Intelligence (AI) cannot be solely relied upon to mitigate the dangers of exposure to explicit content, such as child sexual abuse and exploitation material. As these technologies are not error-free, Yubo maintains a committed Trust and Safety team with the experience, skills and training to enforce policies and efficiently address any violations that threaten the well-being of Yubo users.
As part of their ongoing journey to enhance their safety protocols, Yubo meets regularly with INHOPE's US hotline, the National Center for Missing & Exploited Children (NCMEC), who sit on Yubo's Safety Board. The board, comprised of globally respected authorities in digital safety and related fields, advises and informs Yubo's safety strategy. Learn more about their efforts in the Safety Hub and get to know our newest partner - click here.

About Yubo
Yubo is a live social discovery app that makes it easy for Gen Z to make new friends and hang out online. By eliminating likes and follows, we empower young people to show up as their true selves and connect as authentically as they would offline. As a platform serving teens and young adults, safety is a cornerstone of Yubo. All of our features and policies are developed with guidance from our board of safety experts, which is made up of respected leaders and online safety experts from such organizations as the National Center for Missing and Exploited Children (NCMEC), Thorn, and The Diana Award. Founded in France in 2015, Yubo today is used across more than 140 countries by over 75 million users. Visit us at yubo.live to learn more and follow our journey.
About INHOPE
INHOPE is the global network combatting online Child Sexual Abuse Material (CSAM). The Network consists of 52 hotlines in 48 countries that provide the public with a way to anonymously report illegal content online with a focus on CSAM. INHOPE is based in the Netherlands and our member Hotlines operate in all EU member states, Russia, South Africa, North & South America, Asia, Australia and New Zealand. In a borderless digital world, CSAM has global consequences. As CSAM increases, so do our efforts and those of our partners to combat it, aided by funding from the European Commission under the Better Internet for Kids Programme.
Join us in the fight!

Interested in joining the fight? Learn more about becoming a partner.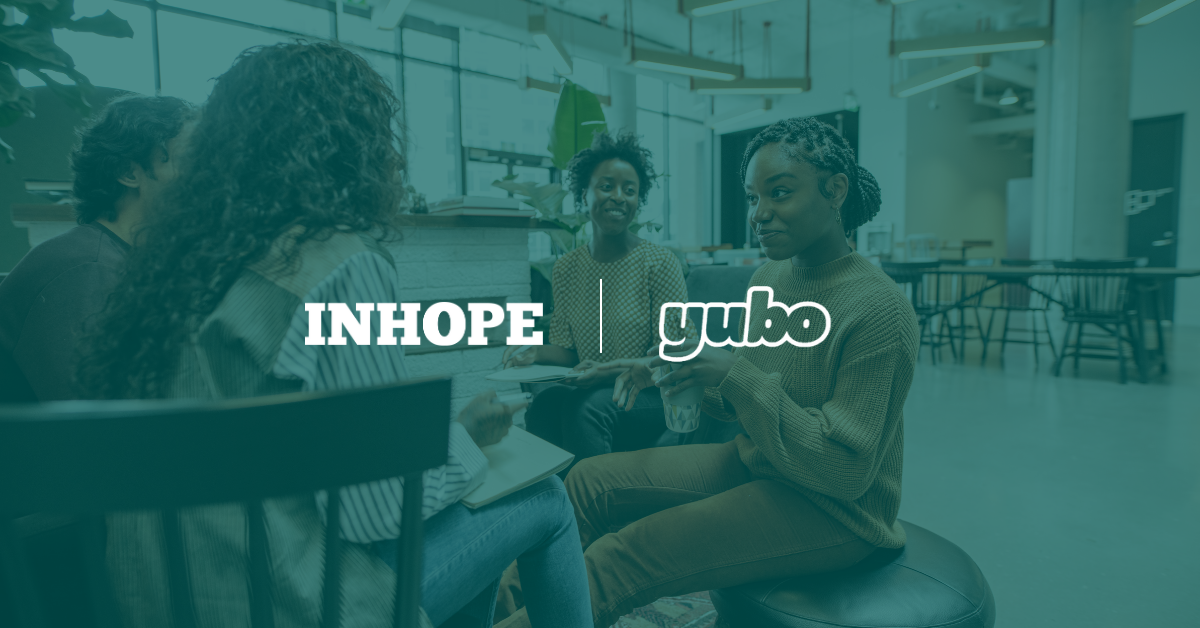 '

Get to know our newest partner Yubo - click here

'