Article
Partner Updates
Industry News & Trends
Promoting online safety with Twitch partnership
Amsterdam, The Netherlands, February 22, 2023. With an online community of over 31 million daily visitors, Twitch joins the fight against child sexual abuse and exploitation online. Creating unique, live, and unpredictable experiences from the interactions of millions, Twitch is an organisation that puts Trust and Safety at the top of its list of priorities.
The live-streaming service welcomes streamers and viewers who foster and build communities. Originally known for its focus solely on video games, Twitch has grown into a lifestyle and general interest service for individuals who want to share what they are doing with their communities who watch them live. We all see the changes in how content moderation is being handled by online platforms and one very positive example is Twitch. This thriving online environment supports thousands of communities with over 2.5 million users engaging at any one time, making Twitch an important player in preventing and tackling potential Child Sexual Abuse Material (CSAM). The reality is that any community is subject to abuse and Twitch is a frontrunner for ensuring its users enjoy a safe and positive experience.

"Twitch takes a proactive preventative approach which is one of the reasons we are thrilled to have them as a partner. Prevention is the most desirable approach as it mitigates risk especially concerning younger users. It's great to see an online platform that does not hesitate to proactively apply digital safety practices to protect their users." - Samantha Woolfe, Head of Network Expansion and Global Partnerships at INHOPE

As long as we use online platforms, we will need to prioritise user safety by a multipronged approach that prevents offenders from abusing the platform and its users. As the popularity of live streaming continues to grow, it becomes more important to address safety concerns. Live streaming is not recorded and therefore requires real-time responses to keep users safe. Safety is a priority at Twitch so in addition to user reporting function, Twitch also employs other proactive safety approaches: community moderators who act as a first line of protection to the community, tracking sudden spikes in engagement, flagging suspicious content in chat, and more. All of which are reviewed and supported by an experienced human content moderation team who check content and terms of service violations, both manually, with technology, and with trusted third-party vendors.
Tech companies need to invest in Trust and Safety, something that Twitch has been very proactive in for a long time. Twitch's work to combat CSAM includes robust escalation procedures, strong relations with INHOPE's US hotline, NCMEC, and direct interactions with Law Enforcement who can request further data in pursuit of criminal cases. Twitch's global Trust and Safety team is led by Ms. Angela Hession, VP of Global Trust & Safety.

"We take our responsibility to protect our community very seriously and have invested heavily in the staffing, tooling, and policies necessary to prevent bad actors from using Twitch to target our community. Safety is a constant priority with no end state, and we will continue to iterate and build new solutions as the digital landscape evolves. By collaborating with organizations like INHOPE, we can share best practices and work together to keep our global community safe." – Angela Hession, VP of Global Trust & Safety at Twitch

Live streaming is everywhere. There are up to eight million streamers who go live on Twitch every month and those streamers broadcast an average of over 2.5M hours of content each day in 35 languages worldwide. This results in huge amount of content that Twitch proactively moderates to ensure community safety is a priority.

About Twitch
Launched in 2011, Twitch is an interactive livestreaming service and global community that comes together every day to create unique, live, and unpredictable experiences from the interactions of millions. It brings the joy of co-op to everything, from casual gaming and world-class esports to anime marathons, music, and art streams. Twitch also hosts TwitchCon, the biggest community event of the year, where tens of thousands of people come together to celebrate and connect with others who share their interests and passions. We're always live at Twitch. Stay up to date on all things Twitch on Twitter and on our Blog.
About INHOPE
INHOPE is the global network combatting online Child Sexual Abuse Material (CSAM). The Network consists of 50 hotlines in 46 countries that provide the public with a way to anonymously report illegal content online with a focus on CSAM. INHOPE is based in the Netherlands and our member Hotlines operate in all EU member states, Russia, South Africa, North & South America, Asia, Australia and New Zealand. In a borderless digital world, CSAM has global consequences. As CSAM increases, so do our efforts and those of our partners to combat it, aided by funding from the European Commission under the Better Internet for Kids Programme.
Join us in the fight!

Interested in joining the fight? Learn more about becoming a partner.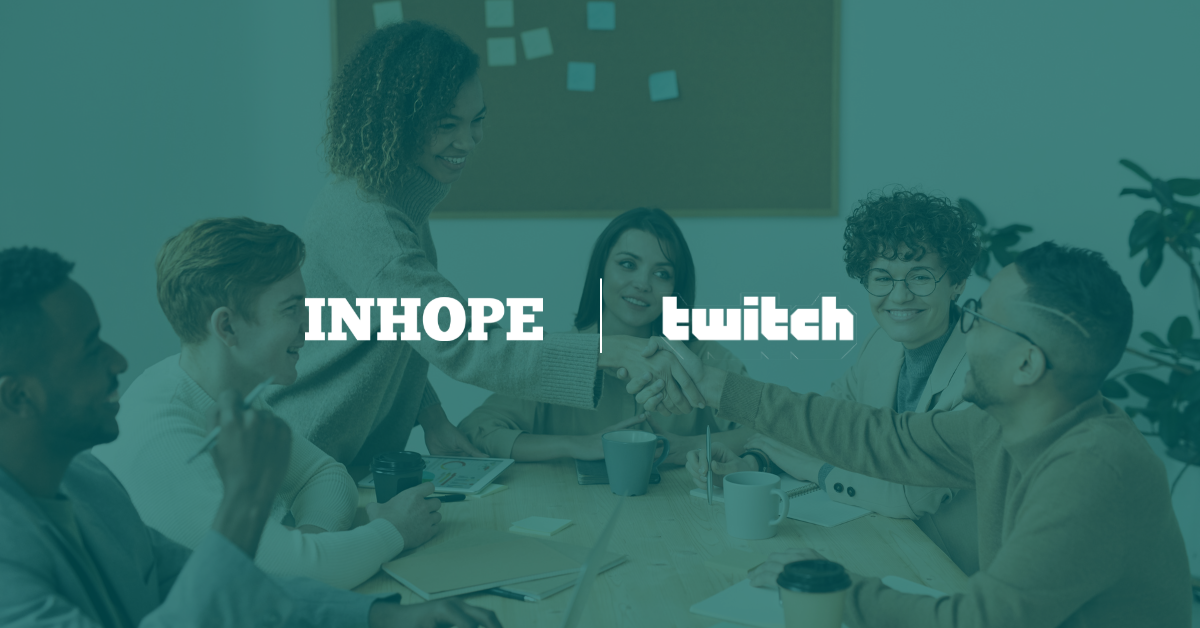 '

Prevention is the most desirable approach as it mitigates risk especially concerning younger users. It's great to see an online platform that does not hesitate to proactively apply digital safety practices to protect their users

'