Article
Hotline & Network Updates
Point de Contact launches 6 practical guides to identify and report online offences
On the occasion of Human Rights Day on the 10th of December, Point de Contact launched six practical guides on six online offences: Child Sexual Exploitation Material, Sextortion, Grooming, Non-Consensual Distribution of Intimate Images, Hate speech, and Terrorist propaganda. These materials were created with the financial support of France's Interministerial Committee for the Prevention of Crime and Radicalisation.
This new documentation aims to simplify applicable legal texts. In addition, provide simple tools to prevent and be protected against these phenomena, such as securing an online account and reporting to a hotline.
Through this initiative, Point de Contact hopes not only to raise awareness among a broader audience but also to increase visibility on the role of a hotline. Moreover, by educating the general public on what to report, how and where, the quality of reporting would also be improved.
These practical guides are the last of a series of awareness-raising materials created by Point de Contact during 2021. They include training for multidisciplinary professionals, comic strips for children, video for the general public, and finally, these six practical guides. All these resources have the same goal, to empower and safeguard internet users, especially children, in the digital world.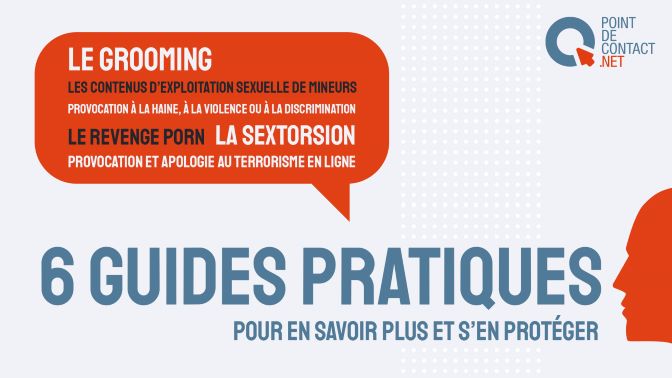 10.12.2021
- by Point de Contact
Photo by Point de Contact
'

If you'd like to learn more about topics like this, then
click here to sign up for INHOPE Insights and Events.

'