Article
Hotline & Network Updates
Operations Manager Vacancy (interim)
INHOPE is the global network combatting online Child Sexual Abuse Material (CSAM). The network consists of 50 hotlines in 46 countries that provide the public with a way to anonymously report illegal content online with a focus on CSAM. The mission of INHOPE is to support the network of hotlines in combatting online Child Sexual Abuse Material. INHOPE hotlines are committed to our vision of removing CSAM as rapidly as possible. We are a motivated and committed team and if you want to make a difference, come and talk to us. INHOPE's headquarters are located in Amsterdam.


INHOPE's Interim Operations Manager will be responsible for the organisations' operations and implementation of projects. Working closely with the Executive Director, they will ensure that the organisation has effective operational procedures in place and will optimize the organisation's operating capabilities. They will monitor the implementation of INHOPE's Strategic Plan and will work closely with the INHOPE Board of Directors in an advisory capacity. People are the engine in driving INHOPE, so the Operations Manager will primarily be a people manager who supports, coaches and empowers the team to consistently.


Objectives
To oversee the implementation of INHOPE's projects, and to mentor team members who directly implement the projects
To collaborate with the Executive Director in delivering the organisational vision and operational strategy
To translate INHOPE's strategy into actionable goals for excellent performance and growth
To help implement organisation-wide goal setting, performance management and continuous improvement
To manage operations and employee productivity, building a highly inclusive culture that ensures team members thrive and organisational outcomes are met
To drive effective recruiting, onboarding, professional development, performance management, and retention.
Responsibilities
Work closely with the Executive Director on organisational excellence and sustainability
Monitor performance with tracking and establishing corrective measures as needed, and prepare detailed reports, both current and forecasting
Complete performance reviews in a prudent manner and coach employees in optimising their capabilities
Assess and implement improved processes
Set and continuously manage project expectations and communicate these effectively with project team members and all relevant stakeholders
Provide financial oversight of INHOPE's projects
Provide oversight of all outsourced contracts and contractors of INHOPE projects
Develop new projects and prepare funding submissions for future grants
Note: exposure to child sexual abuse material (CSAM) is not a planned part of this role. INHOPE has a mandatory staff welfare policy governing this area.


Required Experience
Minimum of 5 years' experience in a management role including people management
Proven operational experience in professionalising organisations
Master's degree or equivalent relevant senior experience in a relevant field
Fluent English speaker, other languages would be an advantage.
Experience with project management and/or implementation in the NGO sector.
Experience with maintaining partner and donor relationships in the NGO sector.
Strong team player, flexible, and able to involve key parties quickly and effectively.
Responsible and self-reliant.
Strong written and verbal communication skills.
Time management: multiple deadlines for multiple disciplines will overlap.
Desirable experience/attributes
Experience with Law Enforcement Agencies.
Experience with management of EU-funded projects.
Experience with management of technology development projects.
Previous experience in a hotline would be an advantage.
Knowledge and understanding of trust and safety in the digital world.
Benefits
A flexible, inspiring work environment that values teamwork, collaboration, learning and innovation.
Remote working, if preferred.
Friendly and respectful organisational culture.
Opportunity to work on an important cause.
Training and coaching budget available.
Travel: INHOPE is an international organisation – thus travel will be part of this role, which at certain periods of the year may be 25% of the time.
Additional benefits: INHOPE offers 25 days leave per year, a pension contribution of 6.5% and 8% holiday pay.
Language: The business language of INHOPE is English.
Conditions
Applicants are preferably based in the Netherlands and are either EU citizens or residents that hold a valid work permit. We are obliged to recruit first within the Netherlands, the rest of the EU, the European Economic Area and Switzerland, and then the rest of the world. INHOPE can apply for work permits for applicants that need one.


How to apply and what to expect in our recruitment process
Let's do great things together! Apply by 18 November 2022 by clicking here. If you have any questions email hr@inhope.org. Upon a review of your application and a potential match with our position, we will invite you to a series of online interviews.


Position: Interim Operations Manager (maternity cover)
Reporting to: Chief Operations Officer
Location: Remote/Amsterdam, The Netherlands
Hours: 37.5 per week (full-time)
Contract: Employee or Contractor for a minimum period of 1 year
Start date: February 2023
Salary range: 5.000 – 6.200 € per month gross dependent on experience
Interested? Apply Now*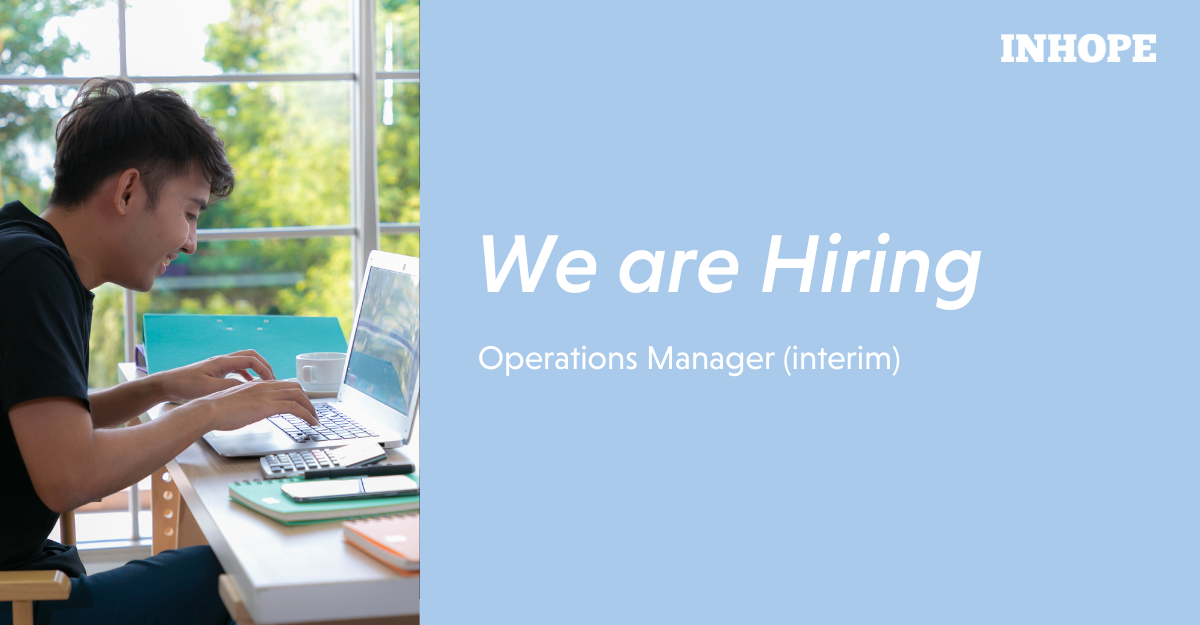 '

Apply to be our Interim Operations Manager by clicking here

'