Article
Events & Campaigns
Industry News & Trends
Launch of the first European Virtual Forum
We are pleased to announce that INHOPE will be hosting its first European Virtual Forum (EVF) in 2023. Inspired by the success of the annual INHOPE Summit, the EVF will deepen our understanding of the challenges of combatting Child Sexual Exploitation Material (CSEM) at the same time as expanding our global collaboration to achieve the best impact in fighting it. Hosted in the Netherlands, the EVF will be an online-only event to ensure that all speakers and participants can easily join.
This event aims to connect knowledge and expertise from established experts, including business leaders, law enforcement, tech development companies, INHOPE hotlines, Trust & Safety teams and others. We will refocus our attention on CSEM to shine a light on current trends and how it's being fought today.
The two-day interactive forum with the theme "Stop the domino effect" will start with a day that focuses on a key theme, followed by a second day that explores current obstacles and opportunities in child sexual abuse and exploitation material removal.
Day 1 will explore how we need to tackle each part of the CSAM chain: examining preparators' profiles, distribution, financial trials and reporting trends.
Day 2 looks at hotline needs, this year will explore the need for CSEM reporting and processing. The legislative landscape, content removal restrictions, are followed by breakout sessions to discuss and share best practices.

Who is the European Virtual Forum for?
We welcome Trust and Safety Professionals, Content moderators, Child Protection NGOs, Technology companies, Law Enforcement, Hotlines, Policymakers, Government and stakeholders working in the field of online child protection.

When and where is the European Virtual Forum taking place?
March 22 10:00 CET to 15:30 CET
March 23 10:00 CET to 15:30 CET
The European Virtual Forum is online only. We will be using Microsoft Teams and all approved attendees will be sent a meeting placeholder upon approval. Their individual access link will be sent 24 hours prior.

Should I join the European Virtual Forum?
The hard reality is that reports of CSAM are skyrocketing around the world. Our hotlines are seeing a huge increase in cases and with that increase come challenges. Tackling these challenges requires collaborative efforts and the support of different stakeholders. If you are interested in joining we recommend that you register early as all registrants are subject to approval and registrations close on March 17th at 5 pm CET.
Learn more and register here.

We are happy to answer any and all questions you have via communications@inhope.org
This event is funded by the European Commission.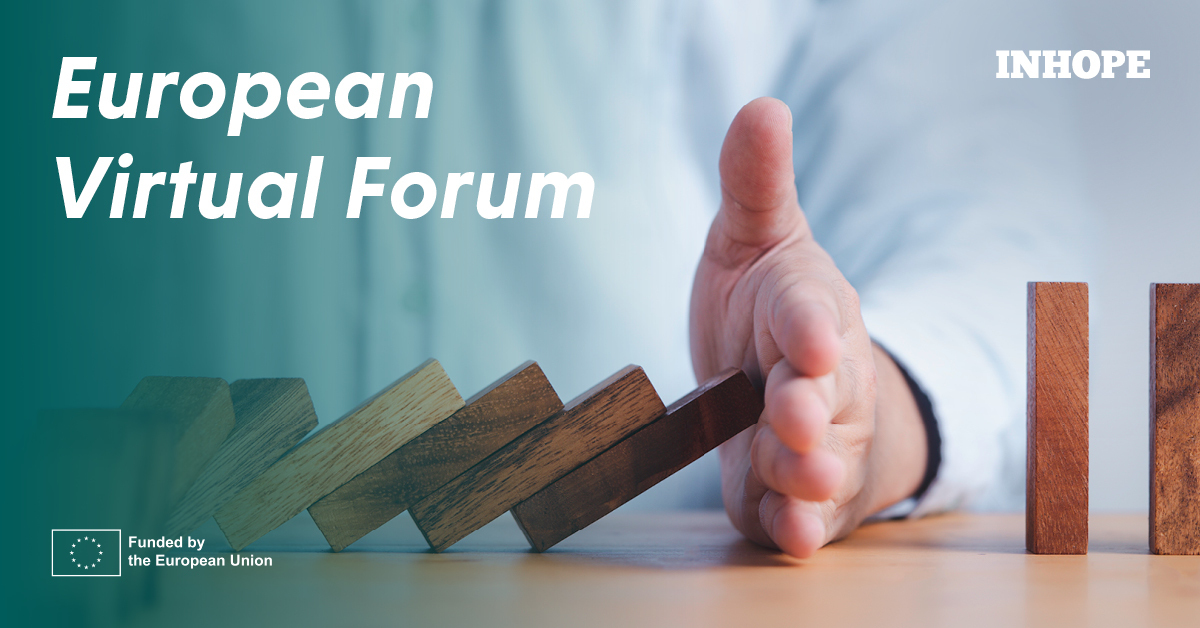 '

The EVF will expand our global collaboration by offering more accessibility. Register now to save your spot here!

'