Article
Events & Campaigns
Immediate Coping Strategies for Digital First Responders
Digital First Responders are the frontline in the fight against Child Sexual Abuse Material (CSAM). Working for INHOPE member hotlines, technology platforms, and law enforcement, these are the people responding to and handling reports of suspicious material online. They view and analyse this content so that it can be taken down, victims can be rescued, and perpetrators can be caught.
In part one of our series on wellbeing for Digital First Responders, we discuss immediate coping strategies for those doing this challenging and emotionally demanding job.

Get support from colleagues
Few people understand the nature of analysts' and content moderators' work so it is important to have strong connections with your colleagues, although the form this takes depends on the individuals. It can be easy to underestimate the value of organised social and team building activities, but they can be very beneficial for building a sense of community.

Use of space
Using different spaces for different purposes can really help compartmentalize traumatic content you might have viewed. Ideally use a different space to review content, but if this is not possible, then other options include "locking away" your laptop, or using different browsers for work and recreation. Making the most of recreational spaces such as outside spaces, social common rooms is also valuable.

Always refocus on the mission
Having a strong focus on your mission helps to remind yourself why you're looking at this content. Regular reminders from managers and colleagues here are important.

Use all the resources which are available to you
As one example, counselling and support which is offered by your company can be very valuable. While there are many different forms, what's important is that it's adapted to you. Another example is software tools like apps which are good for wellbeing such as meditation apps, or flow interruption software which remind you to take breaks.

Take advantage of broader networks
In smaller organisations analysts and content moderators can feel isolated, so try and tap into broader networks which provide a wider community of those in similar roles. Possible examples include the INHOPE network for member hotlines, or TSPA for all Trust and Safety Professionals

Adapt to your current situation
While a lot of these things are harder with COVID, we cannot put wellbeing activities on hold, but must think about how to translate these things to our new environment.

To hear more on this, sign up to the INHOPE Summit 2021 which will be looking at Digital First Responders.

Source: : Presentation given by Vincent Courson, Trust & Safety specialist at Google, during our 2021 Hotline Training Meeting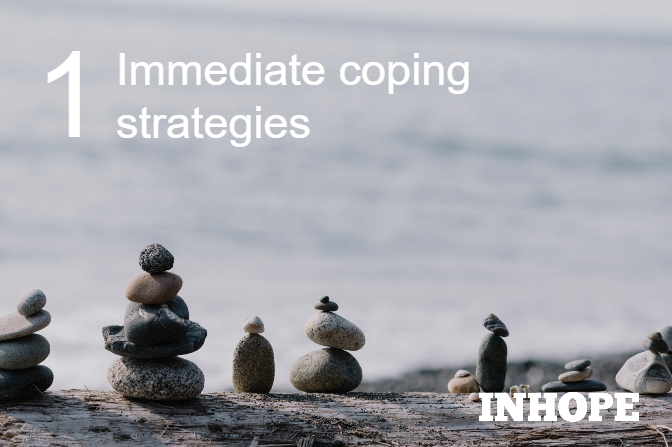 '

To hear more on this, sign up to the INHOPE Summit 2021 which will be looking at Digital First Responders

'