Article
Hotline & Network Updates
How we dealt with sextortion e-mails in the Czech Republic
Several hotlines across Europe, including Stoponline.cz, faced blackmail attempts in the last year. Users received emails informing them that malware installed on their computer would track and film the user's activity online. The sender then threatened to distribute the acquired material, along with a list of pornographic websites visited by the user, to all of the user's contacts. Of course, these emails were fraudulent, but still caused concern for those who received them.
Our team first started to receive desperate phone calls and emails at our hotline in April 2019. Using blockchain.info, we were able to verify that payments had been made to the blackmailers' Bitcoin purse. As a first response, our hotline issued a warning on our Facebook profile and informed colleagues from the national CSIRT, who used their communication channels to further disseminate warnings to users.
The extortionists continue to send these fraudulent emails, using real usernames, emails and passwords stolen from Czech servers in their messages in an attempt to make them appear more credible. This is why Stoponline.cz is always aware, and always analysing new sextortion campaigns to measure their possible impact on users.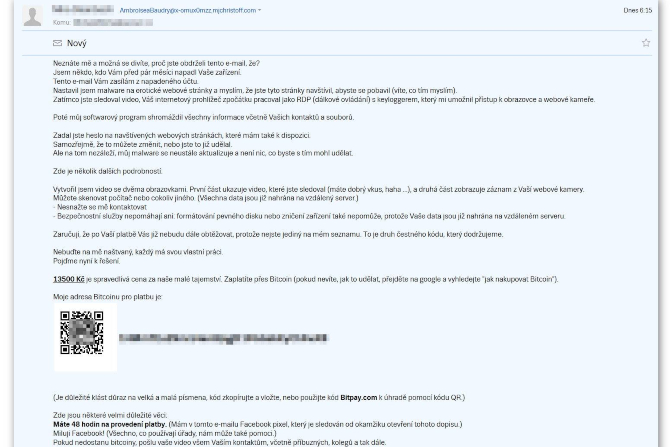 06.11.2019
- by Stoponline.cz
Photo by Stoponline.cz, INHOPE
'

Thanks to the widespread promotion, there has been a decrease in the number of users who got frightened by these fraudulent messages.

'