Article
Hotline & Network Updates
FSM's role of self-regulation under the German Network Enforcement Act
The Voluntary Self-Regulation for Multimedia Service Providers (FSM) was recognised by the Federal Office of Justice as the first institution of regulated self-regulation under the Network Enforcement Act (NetzDG) fulfilling the prerequisites of independence and proper transparent procedure.
In Germany the NetzDG came into force in October 2017 and is primarily intended to combat hate and fake news in social networking platforms, but contains a total of 21 criminal offences. Social networks are bound to delete obviously illegal content after 24 hours. Non-obvious illegal content must be deleted after 7 days or forwarded to a recognised self-regulatory body.
Since March 2020 platforms shall transfer cases to the FSM which are not obviously illegal and difficult to evaluate legally. The contents are then examined by an external, independent panel of experts. This NetzDG review committee includes about 50 lawyers who decide on the cases independently of the platforms and the FSM. The platforms are bound by the committee's decisions and must ensure that the content is no longer accessible in Germany if it is illegal.
The FSM's many years of experience as self-regulators in the field of online youth protection is now contributing to the work within the NetzDG. The independent experts' decisions can provide guidelines for dealing with hate speech on the borderline of legality in the future. The decisions are published in anonymous form on the FSM website.
More information can be found here.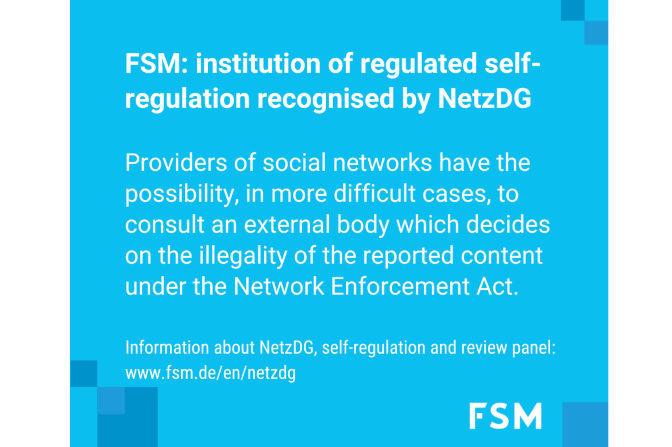 17.08.2020
- by FSM
Photo by FSM
'

Social networks are bound to delete obviously illegal content after 24 hours.

'