Article
Become a Member of the INHOPE Advisory Board
The International Association of Internet Hotlines (INHOPE) is seeking Expressions of Interest (EOI) from individuals to be appointed to the INHOPE Advisory Board.
The INHOPE Advisory Board's mandate will be to provide INHOPE's Governance Team (including the Board and Executive Director) with independent strategic advice and guidance growth strategies, including how to accelerate global expansion and increase the value delivered to INHOPE members and the community as a whole. The Advisory Board will be led by a Chair, appointed by the INHOPE Board.

Advisory Board members are expected to:
Provide independent, clear and reasoned advice
Use their skills, knowledge and experience to give strategic guidance
Actively promote the INHOPE network
Be passionate about our mission to free the world of child sexual abuse material (CSAM) online.
In addition, members should be familiar with the types of issues relevant to INHOPE's mission, including online child protection, corporate trust and safety, online technologies, and the impact of technology on vulnerable communities.
Appointment to the Advisory Board will be for two years. Scheduled meetings should be held twice per year, with additional meetings held as required to consider specific issues referred by the INHOPE Board. Meetings may be conducted remotely. Please note that there is no remuneration or compensation offered to Advisory Board members.

Experts are sought from the following fields:
Technology (including carriers and internet service providers, social media platforms, enterprise service providers, cloud services providers, cybersecurity vendors, network providers, and content and hosting service providers)
Not-for-profit (including organisations involved in child protection, technology advocacy, human rights, and anti-slavery)
Law enforcement/justice administration
Public policy (including academics, researchers, and policy leads).
Corporate entities (finance, banking, insurance, professional services)

The INHOPE Board encourages expressions of interest from experts who are passionate about making the online world a safer place. Using the application process at the link below, applicants should demonstrate through their experience, innovative thinking or other skills how they meet the criteria.
Application process:
Application form: http://bit.ly/INHOPEAdvisoryBoard
Deadline for applications: March 15 2021
Questions: please contact Mr. Toby Dagg (INHOPE Vice President) at advisoryboardinformation@inhope.org
Please share this position with appropriate members of your network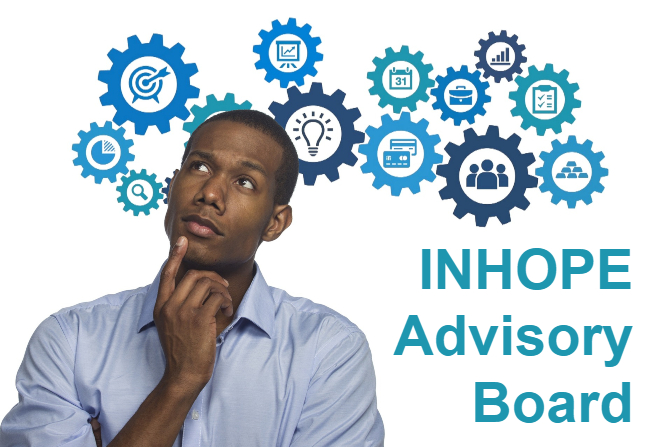 '

Application process: application form
Deadline for applications:** March 15 2021

'